Either my Game or Voice audio is not coming through, and if I change the fader to the other I lose audio all together. How do I fix this?
For this situation, it sounds like the SwitchMix may not be properly configured within Windows itself. Make sure that inside the Windows Sound Settings that the NZXT SWITCHMIX GAME device under Output is set to Is default for audio and that the NZXT SWITCHMIX VOICE device is set to Is default for communications.
From here, check your program settings as well. Some communication programs may require you to set the output settings manually as well. For communication programs like Discord, Skype, Zoom, etc. make sure that your Output is set to NZXT SWITCHMIX VOICE.
My headset has a built in Microphone, why can't my friends hear me?
There may be a few causes for this particular issue. To start, make sure that your Input settings are set up where the NZXT SWITCHMIX VOICE is selected as your default device (indicated by a blue circle) and that the headset is fully plugged in.
If you're running into this issue with a specific program, check the audio settings to make sure the NZXT SWITCHMIX VOICE is set the Input device or if you are using a program such as NVIDIA Broadcaster or Voicemod that your Mic is properly set up in those programs as well.
You may also want to check the headset itself, in particular if it has a Mute button or switch. The last thing to check would be the connection type on the headset. Some older headsets may use the OMTP standard instead of the CTIA standard used by the SwitchMix, which swaps the Ground and Microphone rings and will result in the Microphone not working.
My headset Microphone has excessive static, or my voice sound super high-pitched
This issue can happen if the program you are using and the settings in Windows do not match or the Format for your Microphone is set too high.
For example, Discord has a limit of 48,000 Hz (48kHz) for Microphone Input. If your Microphone is set to 96,000 Hz (96kHz) in the Windows Sound Settings then this may result in your voice coming across super high pitched and fast or may get muddled with static.

Why is my audio stuck on my Speakers or Headphones?
Start by checking the connection for the Headphone stand if you are using it with the Mixer. If the Headphone stand's connection is not fully seated, the switch in the stand will not be recognized and the SwitchMix will stay in Headphone mode as long as there is a headset plugged into the front.
If the Stand is plugged into the Mixer and stuck in Speaker mode, make sure that the button itself is moving freely and try reseating the stand itself.
You can also manually change modes by pressing and holding the Volume knob for 1 second. If this does not change, it could indicate a connection issue.
From here, check the connections to both connections for the Headset and Speakers as the Switch function only works if both can be detected.
My SwitchMix is not showing up in NZXT CAM, but it does show up in the Windows Sound Settings
This could indicate a potential firmware issue or the device may be in a stuck state. To fix this, unplug the SwitchMix for 5 minutes and try using another USB port on the PC to see if it detects.
My SwitchMix is not showing up in the Windows Sound Settings
Like with the CAM issue listed above, this could indicate a firmware issue or the device may be in a stuck state. For this, start by checking the Windows Device Manager under the Sound, video, and game controllers category.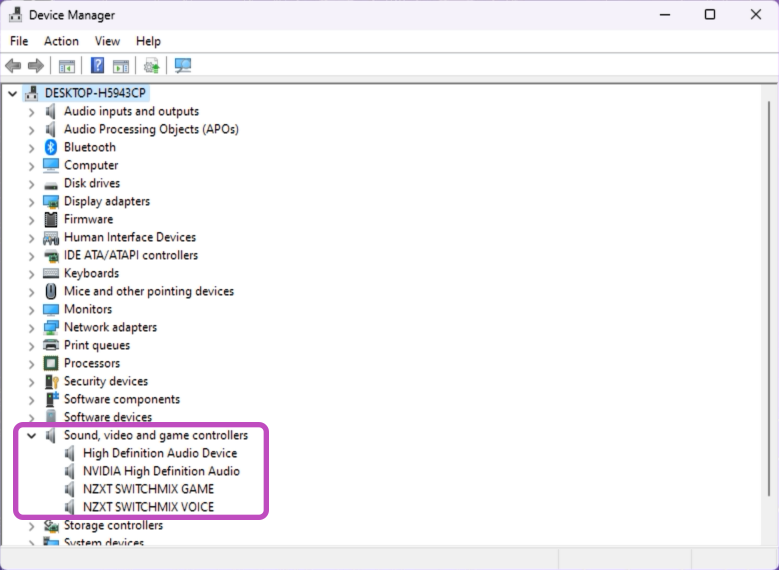 If the NZXT SWITCHMIX GAME and NZXT SWITCHMIX VOICE devices are not shown, this could point to a potential hardware issue. If you have any devices listed as Unknown USB Device with an additional code such as Device Descriptor Request Failed then right-click the device and choose Uninstall Device, then unplug the SwitchMix from the PC and wait 5 minutes. Plug the device back into the computer and confirm if the issue happens again or try repeating the same steps using a different port.
How do I control the EQ or use DTS Audio X profiles with Speakers connected to the SwitchMix?
DTS Audio X functionality, including manual EQ and preset profiles are optimized for headphones and will be limited to headphones connected to the SwitchMix.  Manual EQ and preset profiles will not be available for connected speakers at this time.
Do you have any questions not covered by this guide or need further assistance?  Please feel free to reach out to our Customer Support team and one of our friendly support agents will be there to assist you.

Are you looking to keep up on all things NZXT?  Go ahead and join the Official NZXT Community Discord to keep up to date on our latest products, upcoming sales, and join in on discussions on everything from PC hardware to gaming.
You can also follow us at the following links: