As with any program, CAM itself is not going to be immune to the occasional bug or glitch that may prevent a certain function from working properly or prevent the program from being able to work altogether.  If you run into such an issue, our team is here to help!
To report a bug or get assistance with an issue in the CAM software you can either report the issue directly from within the program itself or in the event that you are unable to get the program to load you can submit a bug report through our Customer Support page.
Reporting an issue within CAM
The best way to report issues with the NZXT CAM software is to do so from within the program itself.  This can be done by clicking the Gear icon in the bottom left corner of the CAM window to open the Settings and selecting Support from the list of options.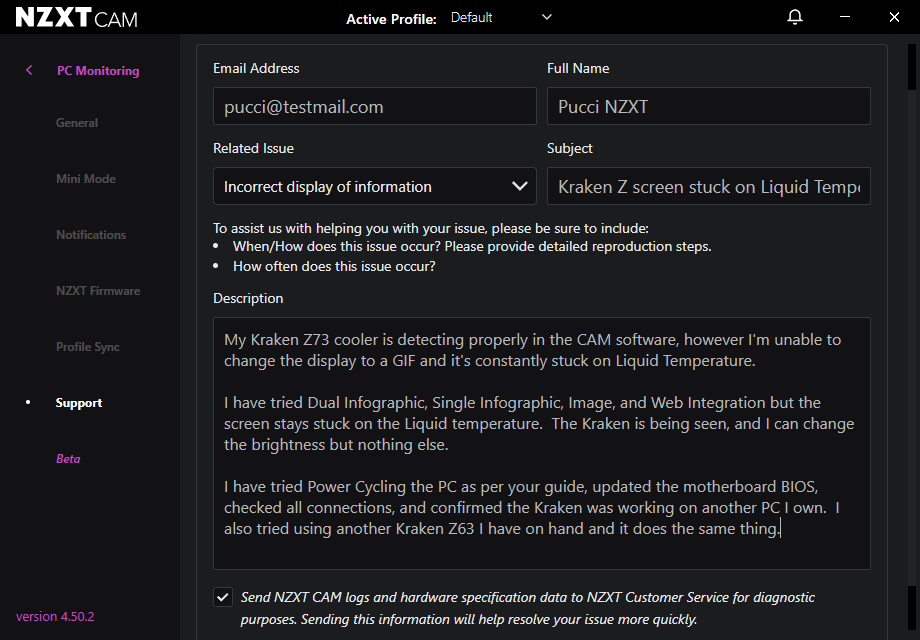 When submitting a ticket, be sure to include a detailed description of the issue as well as any steps that can help our team replicate the issue.  It's also recommended to make sure that the Send NZXT CAM logs… checkbox is selected before sending your ticket, as this will provide our team with a copy of your program's log files as well as a breakdown of your system's hardware that can help isolate issues.
Sending a ticket with incomplete information, however, can result in delays or require our team to reach out for additional details.
Finding your NZXT CAM Logs
If you are unable to start the CAM software, or if you did not send your logs with your initial ticket you may need to find these manually to send to our team.  The CAM software now includes all of the program logs in a single directory for easy access.  To find your CAM logs, type the following address into the Address Bar of your File Explorer.
%AppData%\NZXT CAM\Logs
If you are using the NZXT CAM Beta, the logs will instead be at the following location:
%AppData%\NZXT CAM Beta\Logs

In this folder you should find the following 8 files:
cam.log
cam_elevation_helper.log
cam_exclusive_access.log
cam_helper.log
cam_volatile_helper.log
chromium.log
main.log
renderer.log
In addition to the files listed above, you may have some additional log files (such as the renderer.old.log shown above).  When sending your log files, it is best to include the full contents of the Logs folder for our team to check.  The easiest way to send these files is as a single compressed folder, which can be done by highlighting all of the files, right-clicking them and choosing either Compress to ZIP file in Windows 11 or Send to > Compressed (zipped) folder in Windows 10.
I do not have a bug, but what if I have feedback or a suggestion for the CAM software?
If you have any feedback for the CAM software, such as improvements, feature requests, etc. please check out the NZXT CAM Ideas Board as our team is always looking for ways to improve the CAM software.  This can be found through the link above or by clicking the Feedback link in the Support section of the CAM software.
Do you have any questions not covered by this guide or need further assistance?  Please feel free to reach out to our Customer Support team and one of our friendly support agents will be there to assist you.

Are you looking to keep up on all things NZXT?  Go ahead and join the Official NZXT Community Discord to keep up to date on our latest products, upcoming sales, and join in on discussions on everything from PC hardware to gaming.