How can I leave feedback on NZXT CAM software?
We have a dedicated feedback portal for NZXT CAM, please head to our Product Ideas & Requests Portal.
What information does NZXT CAM send back to NZXT? Why does CAM have no "offline option"?
NZXT CAM can operate while fully offline and does not require an internet connection when run in "Guest Mode". However, NZXT CAM does use an internet connection for the following:
Checking for, downloading, and installing updates

Logging in, and backing up user settings to the cloud so they can be recovered in the event of local data loss

Allowing users to submit tickets and access our online help portal.
NZXT CAM sends the following information to NZXT when logged in to an account or in guest mode.
Anonymized usage data, which NZXT uses to make improvements to NZXT CAM

Anonymized performance data, which NZXT uses to make performance estimates around game performance on different systems.
All functions except for the auto-updating of the CAM software can be disabled in the General tab under "Privacy".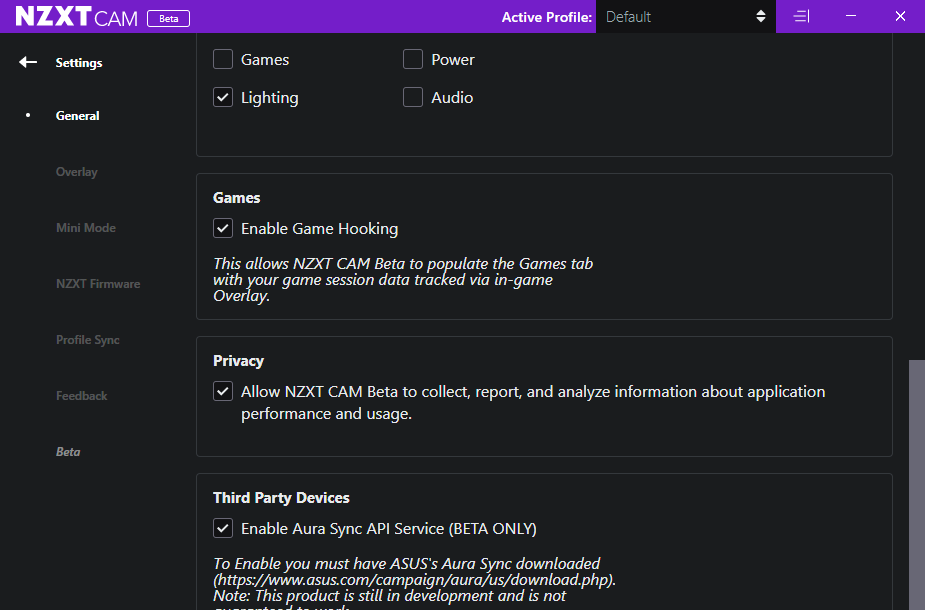 What information does NZXT CAM back up to the cloud?
NZXT CAM backs up and stores the following information:
Game performance data, including the total time, played, and FPS data

Saved lighting profiles

Saved cooling profiles

Saved overclocking profiles

Custom device names you created for your components
All of this information should be restored in the event of a local data loss.
What is cam_helper.exe?
Cam_helper.exe is a sub-process that NZXT CAM uses to increase stability. Since some of our features, primarily drawing the overlay, are dependent on the operation of other programs, they are managed via cam_helper.exe. In the event that the process fails unexpectedly, NZXT CAM can continue running as expected.
Why are the temperature, load, or frequency readings for my devices inaccurate?
Different hardware monitoring tools use different sample rates to determine the temperature, usage, and other readings from your devices. This can lead to inconsistencies across different monitoring tools but doesn't mean that any tool is more or less accurate. If you feel that there is a gross inaccuracy in your devices' readings, please submit a support ticket here and we would be more than happy to help!
Can CAM control 3rd party RGB devices?
CAM is able to control 3rd party RGB devices when connected to an N7 Z490/Z590/B550 motherboard via the standard RGB connectors found on the motherboard. Additionally, CAM is able to control RGB RAM via ASUS's Aura Sync API Service. Unfortunately, we do not have plans for any other 3rd party RGB support at this time.
Can CAM control my fans without having an NZXT Fan Controller?
CAM is only able to control fan speeds via a compatible NZXT fan controller. Devices such as the Smart Device V2, RGB & Fan Controller, Grid V3, Kraken X2 Coolers, Kraken Z3 Coolers, and any of our NZXT N7 Motherboards can control fan speeds for devices connected to them.
Will CAM come to Linux or Mac OS?
At this time there are no plans to bring CAM to other platforms such as Linux or Mac OS. CAM V4 was designed from the ground up for Windows 10. There are 3rd party alternatives that would allow you to use CAM devices on Linux, but these can potentially void your warranty, so we recommend against them.
Do I need CAM to control my NZXT devices?
For our cooling and lighting products, CAM is required and your cooling products may not even operate at the correct speed for your system's temperatures.
Can I downgrade to an older version of CAM?
We currently do not offer previous versions of CAM for download unless for troubleshooting various bugs.