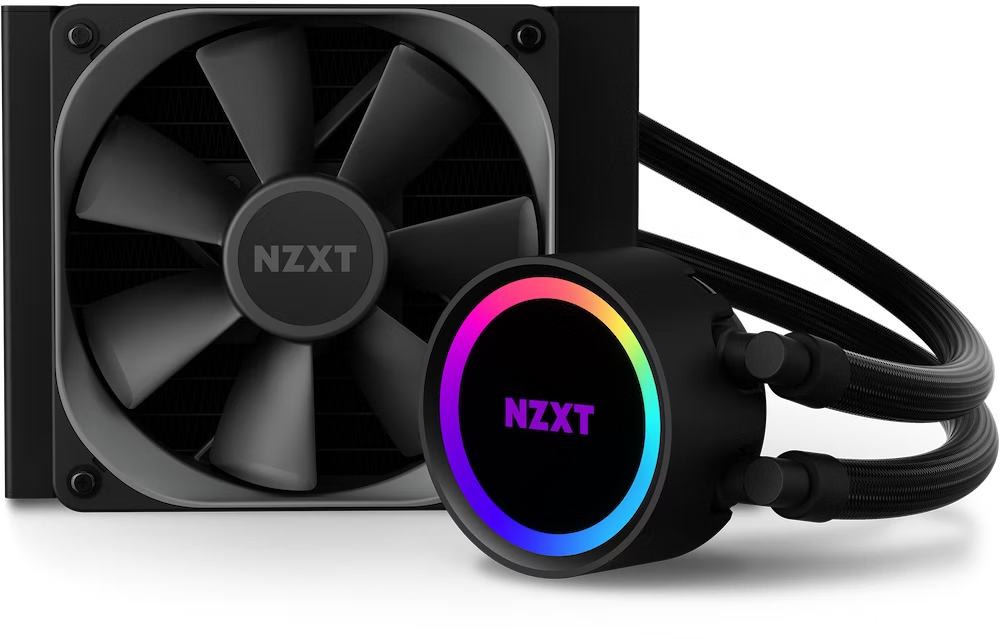 Depending on how your Kraken 120 cooler is connected to your PC, you will either need to control the cooler through either the NZXT CAM software or through your motherboard's specific RGB control software.
For systems using an NZXT N7 series motherboard, RGB & Fan Controller, or Hue 2 controller it is recommended to have the Kraken 120 attached to an available NZXT RGB header. Once connected to an NZXT RGB Header, you'll be able to control the Kraken and any daisy chained devices via the NZXT CAM software.
If your Kraken 120 is connected to your motherboard using a 5V Addressable RGB header, you will need to use the motherboard's specific RGB software. For more information about using your motherboard's RGB software, please refer to the motherboard manual or the manufacturer's support page.
A list of the most common RGB software for motherboards is found below:

While configuring the Kraken 120 with third party software you may need to manually set the number of LEDs in the Kraken itself. The Kraken 120 includes 9 LEDs with 8 of them making up the ring and the 9th being for illuminating the NZXT Logo.
Controlling the Kraken 120's RGB in NZXT CAM (NZXT RGB Header)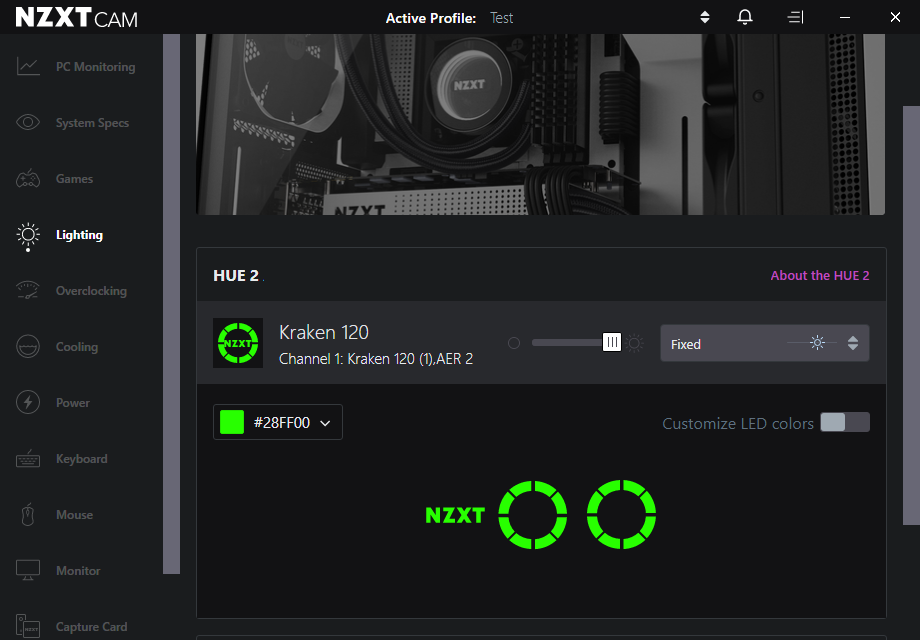 Controlling the Kraken 120 in NZXT CAM is quite simple, once you have connected the Kraken 120 to a CAM enabled RGB header go ahead and navigate to the Lighting section of CAM and select the Kraken 120 on the connected controller. From here you can control the LEDs on the Kraken 120, as well as any other RGB devices daisy chained to the Kraken 120 such as an Aer 2 RGB fan as shown above.
Controlling the Kraken 120's RGB in NZXT CAM (5V Addressable RGB Header)
If you are using an NZXT N7 series motherboard with a 5V Addressable RGB header to connect your Kraken due to being out NZXT headers you can still configure the Kraken in CAM without issue. To do this, first click the "About the N7..." link for your motherboard in the Lighting section of CAM.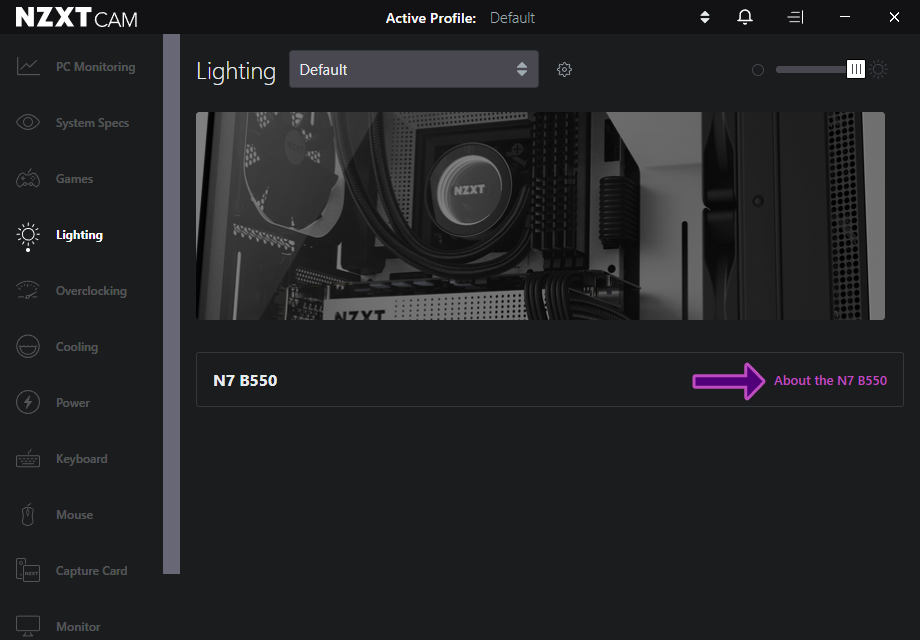 On the pop up window, click the gear next to 5V_ARGB1.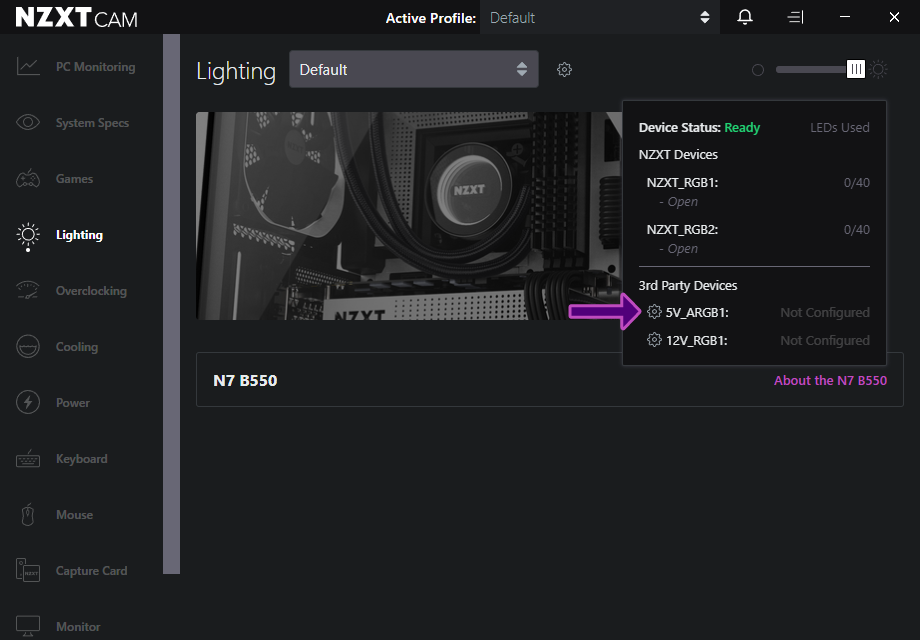 Select a label for this RGB device, in this case we'll go with AIO and click the "Advanced Setup" button.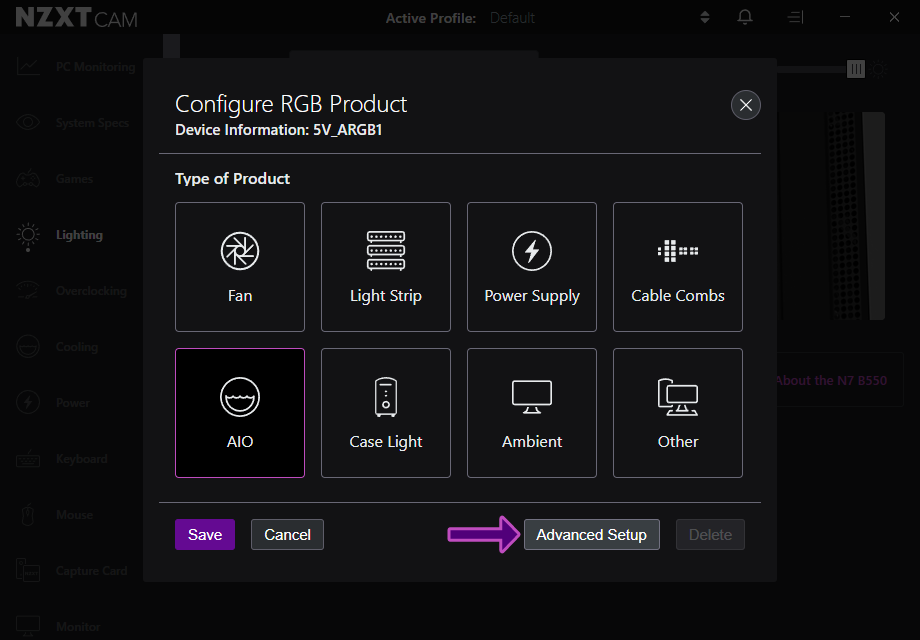 In the Advanced Setup window, drag the slider to the right until the number on the sider show 9 for the Kraken 120. If you have daisy chained additional RGB devices to your Kraken 120 such as an Aer 2 RGB fan, add the necessary number of LEDs to the slider and click "Save", then click "Save" when you return to the "Configure RGB Product" window.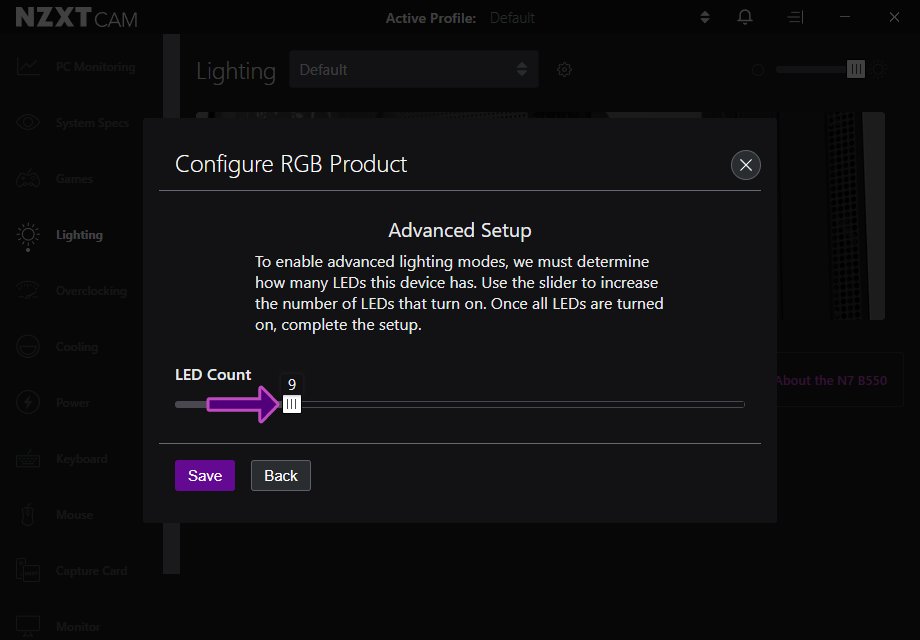 With the LEDs set, you're now free to change the RGB color on the Kraken 120 and any additional devices. In the picture below the Kraken 120 is set up with both the AIO LEDs as well as a single Aer 2 RGB fan.