Does the NZXT Capsule support XLR connections?
This mic is connected to your system via a USB Type-A to USB Type-C connector. It does not support XLR connectors.
Can I use the NZXT Capsule with any boom arm?
Our microphone is compatible with any ¼" and ⅜" threaded boom arms. ⅜" boom arms are connected via the included ¼" to ⅜" adapter.
What microphone pickup patterns does the NZXT Capsule support?
The Capsule only supports a cardioid pattern and is not switchable to any other patterns. This product was designed with gaming and streaming in mind. In this space, cardioid patterns are most common. Pictured below is an example of a cardioid pattern.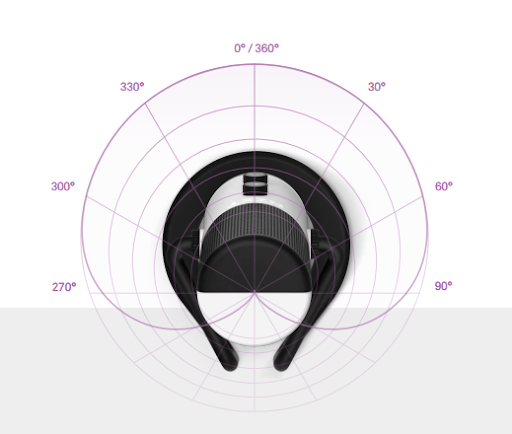 Can I use any USB cable with the NZXT Capsule?
Yes, you can! If you have a fancy sleeved Type-A to Type C USB cable you are more than free to use it, just make sure that it supports USB data transfer. As many cables found on the market may be for power only such as for charging a mobile device.
How can I mute the NZXT Capsule?
This can be done by pressing the gain adjustment button on the microphone. If the microphone is standing upright, this would be the top knob. If it is upside down, then this would be the bottom knob.
Can I disable the light on the microphone?
The light cannot be disabled, as this is the indicator that your microphone is live or muted at any given time. White indicates your microphone is active and red indicates the microphone is inactive.
Why does the knob for adjusting gain not have a stopping point?
This was an intentional design choice, we find that the best way to adjust audio is to actively test your recordings as you adjust the gain to find that perfect operational spot for your setup.
What is the NZXT Capsule made of?
The Capsule consists of an aluminum body with PC ABS components.
Does the NZXT Capsule have an audio passthrough?
Yes, it does, there is a built-in 3.5mm for passthrough to a compatible audio device.
What is the weight of the NZXT Capsule?
Total weight with stand: 883g
Without stand: 314g
How big is the NZXT Capsule?
Total: 115 x 131.3 x 252.8mm
Without stand: 60 x 65.1 x 170.2mm
What is the sample rate of the NZXT Capsule?
24-bit/96kHz