When a system successfully boots up and starts loading your Operating System, this means the system was able to pass the motherboard's basic hardware tests. This is referred to as the POST (Power on Self Test) and is important to make sure all hardware is seated and working properly.
If your system were to fail the POST process when powering up it can result in the startup process to be paused or cause the system to shut down. Common issues that cause a system to fail the POST include:
Power issues (bad power outlet or disconnected power supply cables)
Issues with USB devices and other external connections
Hardware not seated properly (GPU and RAM)
Defective Hardware (GPU, CPU, RAM, or Motherboard)
Troubleshooting these issues can be relatively easy and only take a few minutes. If at any point you have questions or run into issues while going through the troubleshooting steps below, please contact our Customer Service Team for a Live Chat or via the phone by calling toll-free at +1 800 228 9395. Our live services are open from 8 AM to 8 PM PST Monday to Friday.
Basic Troubleshooting
To begin, please power the PC down and turn the power supply switch to the off position as pictured below.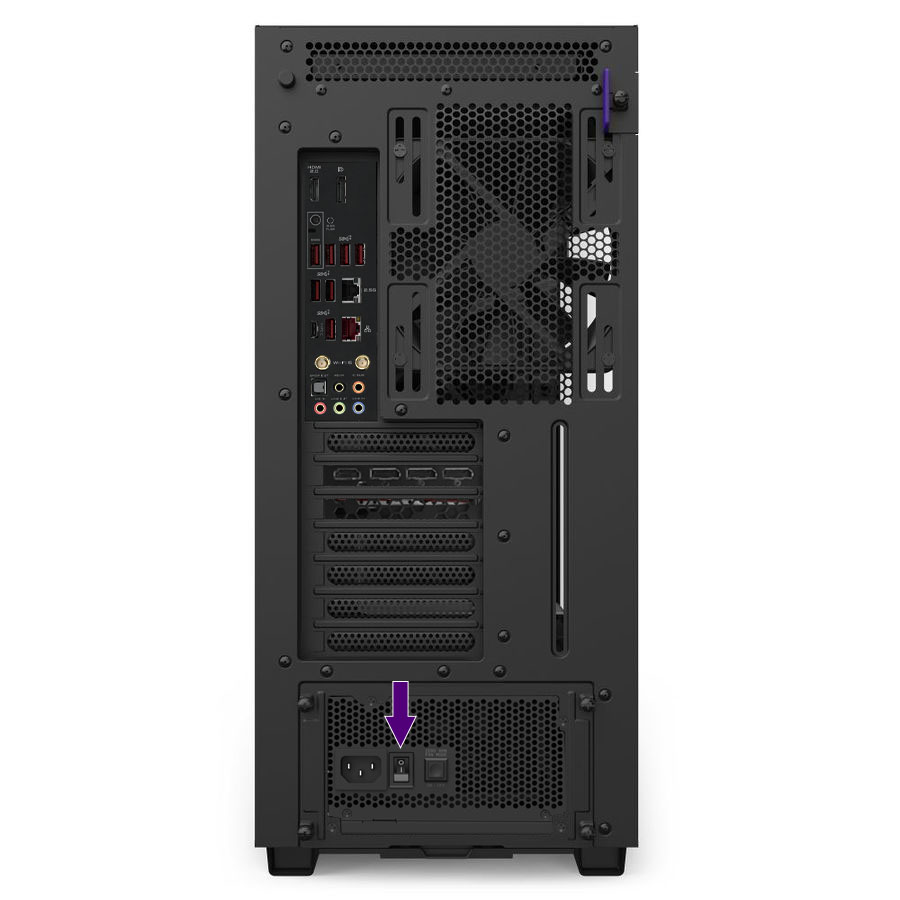 Next, make sure the system is connected to a power outlet that is known to work and can support the power your system needs. Connect any peripherals, turn the power supply switch to the on position, and power on the system.
If your system still does not POST, remove all peripherals except for your Display and Power cables and attempt to power on the system again. If it does pass the POST and you are able to start loading into your PC, one of your peripherals may be defective. Power off the system and connect one peripheral and then power the system on again. Repeat this until you find the peripheral that is causing the issue.
If your system still will not pass the POST, the next step is to verify that all hardware and power cables that are in the system are properly connected/seated. Before you check this, make sure the system is powered off completely and disconnect the power cable.
RAM Troubleshooting
The first hardware to check is the RAM. Your RAM will need to be reseated, in order to reseat your RAM, follow the video embedded below.
After re-seating your RAM, plug your PC back in an attempt to boot again. If the POST problem persists, try removing one stick at a time and placing it in every slot. Be sure to turn the computer off and on before and after moving the RAM as described above. If you find a particular combination of the RAM allows your system to start up like normal, contact the customer service team for further assistance.
GPU Troubleshooting
If your system still fails the POST after re-seating the RAM, the next best step is to re-seat the GPU. Make sure your system is fully powered off and disconnected from a power outlet before doing this. Then follow the video embedded below for instructions on how to re-seat your GPU.
If re-seating your GPU did not resolve the issue, the problem could be related to the GPU. If you have an Intel CPU in your BLD PC, you will need to test the system to see if your PC will complete the POST process without the GPU. In order to do this, plug in the Display Cable from your TV/Monitor to the HDMI/DP port located on your Motherboard. Then plug your system back in an attempt to start up your PC. If your system passed the POST and starts loading Windows, please contact the customer service team for further assistance.
M.2 Storage Troubleshooting
Another troubleshooting step to attempt is to re-seat your M.2 storage within your PC, this can potentially cause the PC to not post. The video embedded below will show you how to re-seat your RAM. In some instances, you may need to remove your GPU from your PC if the M.2 cover is blocked. Keep this in mind.
If you are still not passing POST, we recommend moving your M.2 Storage to a different open slot to see if the PC will POST. If moving to a different slot allows you to POST, let our customer service team know.
Power Connection Troubleshooting
The last thing to check is to re-seat the power connections to the motherboard from your power supply. Your power supply cables will be connected to the top left and right sides of the motherboard, this is shown in the example photo below.
After carefully re-seating all cables attempt to power on your system. If your system still does not pass the POST, then it may need to be sent in for repair. Please reach out to us to arrange an RMA. You can also contact our Customer Service Team Live Chat or call us toll-free at +1 800 228 9395 for quicker assistance.