Get the highest PC stream quality with two PCs and an NZXT capture card
As with many things, two are better than one, even when it comes to streaming with a PC. In this guide, we'll review everything you need to get your two PC setups running smoothly!
Why a two-PC setup?


For the majority of streamers, one PC will do just fine. In fact, it's come a long way thanks to GPU encoding such as NVENC. However, the highest quality streams still require two computers to divide the work of streaming and gaming as both require significant resources. With a computer dedicated to gaming, you can use every bit of power to push your in-game experience to the highest level of quality and performance. The second computer will handle the streaming, taking away that processing task from the gaming-focused PC, allowing it to function at peak capacity.
Why do I need a capture card?


For two PC setups, there are some free solutions for getting video/audio of gameplay to the streaming PC. However, the most reliable and simple way to perform this setup is with a capture card. In fact, using a capture card means the gaming PC won't have to do ANY extra work to send the information to your streaming PC.
Which NZXT Signal capture card should I get?


To help you decide, here are some questions to ask yourself:
Do you want to play in HDR?
Do you want to play at a high framerate such as 120Hz, 144Hz, or 240Hz?
Do you want to record in 1080p 120Hz so you can have smooth slow mo replays?
Do you want to record in 4K30?
If you answered "yes" to any of the above, you'll need the Signal 4K30. Otherwise, the Signal HD60 will be great for you!
Ideal Setup


With a two-PC setup, ideally, you will have a Mixer that is compatible with your gaming PC over USB. This simplifies the setup greatly for audio, which is by far the biggest challenge in a two-PC setup. This also means that you can invest in one microphone that can be used in-game, on Discord, AND be captured for the stream.
Recommended equipment:


Audio Mixer:

USB Mixer with at least one of the following: XLR input, line-in (3.5mm or 1/4 inch), headphone output (3.5mm or 1/4 inch).

Microphone:

An XLR Microphone.

Capture Card:

Signal 4K30 for high framerate and HDR passthrough.

(2) Audio Cables

: 3.5mm audio cable with two male ends. This is typically called an AUX cable. 2.0m recommended.

(2) HDMI cables:

NZXT Signal Capture Cards come with one HDMI cable, so make sure you have an additional HDMI cable, possibly the one that came with your monitor or motherboard, and be sure it is HDMI 2.0 compatible.

(1) Additional HDMI or DisplayPort cable:

This will be for connecting your computer to a display.

Headphones:

This should have a 3.5mm plug and it will plug into the Mixer. USB Headphones are not recommended for this setup.

(2) Display:

One dedicated gaming display, and one for streaming. The gaming display should be in the format you want to play in, for example; 4K60 HDR, 1080p240Hz, 1440p144Hz, etc. The stream display can be any size or resolution and will be connected to the stream PC.
(2) Computers: Typically streamers go to two PCs when they upgrade their computer for gaming, and use the original computer as the stream PC. The stream PC should ideally have a line-in port on the motherboard.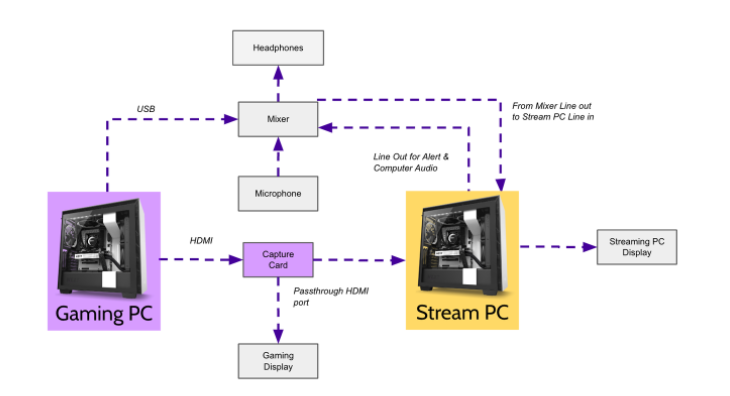 Power on your Gaming PC and connect it to your Gaming display directly and follow the setup.

Connect the Mixer, headphones, and microphone to the Gaming PC.

Download any necessary software for the mixer, and all graphics drivers and updates needed.

Test your microphone in your favorite chat application and in-game if needed.

Power on your Stream PC with the display connected.

Plug in one AUX cable from the LINE OUT of the Mixer to the LINE IN of the Stream PC (typically on the motherboard).

Plug in the second AUX cable from the LINE OUT from the Stream PC (typically on the motherboard) to the LINE IN on the mixer.

Disconnect the gaming display from the gaming PC.

Plug one HDMI cable from the gaming PC's graphics card to the HDMI IN on the capture card. This is the middle port on both NZXT Signal capture cards.

Plug the second HDMI cable from the HDMI OUT on the capture card to the gaming display.
NOTE: If you want to be able to use the Gaming PC without powering on your Stream PC, connect your gaming PC to both the capture card (with HDMI) and the gaming display (with DisplayPort) at the same time, and duplicate the displays. Sometimes there are issues with frame rate or resolution so it is recommended to use passthrough.
With your capture card now connected to the Gaming PC, set the desired resolution and frame rate in your graphics settings on the Gaming PC. You will see the capture card name as if it was a monitor in your settings.

In your favorite streaming software, add a VIDEO CAPTURE DEVICE as a source. You should see the name of the capture card in this list.

Set up your stream layout on the Stream PC with your favorite streaming software.

Test your audio from the mixer. Make sure all audio is routing as intended

Finalize your stream settings and layout

Go live!