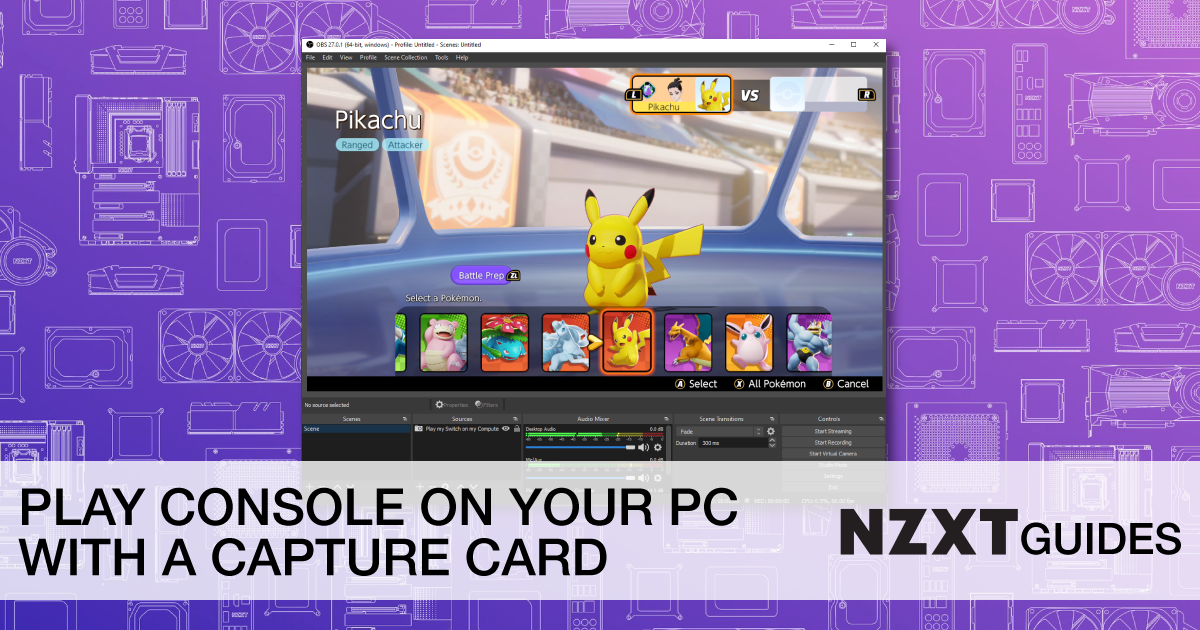 If you're a gamer, there's a good chance you can enjoy a good game no matter what platform it's on.  For many PC gamers however, you may not have a dedicated monitor or TV on hand for your console such as a Nintendo Switch, Sony Playstation 5, or the Xbox Series X or S.  In this guide, we'll show you how to use a Capture Card and your PC as a way to play your console, all thanks to the NZXT Signal Capture Card and OBS Studio.
What is a Capture Card, and do I need one?
The easiest way to answer this question is with another questions:
Do I have an additional source that I use to play games, such as a game console, mobile device, or another PC?

Do I want to play, record, or stream games from that other source to my PC.
If you're playing and recording/streaming from the same PC, a capture card is not going to be necessary.  However, if you're looking to record or stream from a game console, mobile device, or a second PC then a Capture Card is going to be the most reliable way to get that signal at the best quality and framerate possible.
In addition to this, you can set up a Capture Card and your PC to act as a monitor for other devices as we'll do in the guide below.
Setting up your Capture Card and Console
Console Settings
For a detailed setup guide for your console, camera, or mobile device check out our guide linked below:
NZXT Support - Streaming from your Console, Camera, or Mobile Device
Before continuing with this guide, it is recommended to make sure that HDCP on your device is Disabled.  Depending on your device, this feature will either automatically disable as necessary (i.e. Nintendo Switch and Microsoft Xbox Series X/S) or may require opening your system's settings (i.e. Sony Playstation 4 and 5).  Some devices may have always-on HDCP( i.e. Sony Playstation 3) and will not be compatible with most Video Capture Devices.
Preparing OBS Studio
Make sure you have the latest version of OBS Studio.  You can download the latest version as the link below:
Open Broadcaster Software | OBS
If you are launching OBS Studio for the first time, you'll be prompted to follow a basic setup to get your system ready to go for streaming and recording.  You can go ahead and skip these steps for now, as many of these settings will be covered below.
In the bottom right corner of the OBS Studio window, click Settings and go to the Audio tab.
Set your Desktop Audio to your desired output (ideally, this will be your Headphones or Speakers).
Set your Monitoring Device to the same device as the Desktop Audio set above.

Switch to the Video tab, then set both the Base and Output Resolution to 1920 x 1080 and the Common FPS Values to 60.

Click Apply to save all of your current settings, then click OK to close the Settings window.
Adding the Capture Card to OBS Studio as a Source
Now that OBS is set up and ready to go, we'll need to add the NZXT Signal as a source within the software.  Before continuing, make sure that your NZXT Signal is plugged into a USB 3.2 (Gen 1) compatible USB port on your PC and that the console you wish to play is connected to the HDMI In on the Signal.
Click the + icon found on the Sources panel, then choose Video Capture Device.

In the window that pops up, go ahead and give your device a name.  For ease of finding it later, let's name it NZXT Signal Capture and click OK.
Once in the Properties window that is now open, select your Capture Card in the Device dropdown.  If you're using an NZXT Signal, it'll appear either as the NZXT Signal HD60 Video or NZXT Signal 4K30 Video depending on the model.

For now, go ahead and leave the Resolution/FPS Type as Device Default and you should be able to see your console's video signal.  If you do not have a video signal, you can try setting this manually to match your console's output resolution.  Most consoles will be set out of the box for 1920 x 1080 @ 60 FPS.
For the Color Space and Color Range settings, you may need to adjust this on a console-by-console basis.  We generally recommend leaving this as default or set Color Space to Rec. 709 and Color Range to Limited to ensure the best compatibility and picture.
Scroll down a bit more and you'll find the Audio Output Mode setting.  In some cases, you may need to set this up manually or you will not be able to hear anything from your capture source.  For this setting, we'll be setting Audio Output Mode to Capture Audio Only and make sure that Use Custom Audio Device is click on to expose the Audio Device option.
In the Audio Device option, select the appropriate device for your NZXT Signal.  In our case, we'll be choosing NZXT Signal HD60 Audio and then click OK to save your settings.
With the source set up, we should now see the console's output on the Preview window in OBS.  With this you should be ready to go, however for some users you may notice that there is no audio coming from the game.  To fix this, we're going to need to do a few extra steps.
Click the Settings (...) icon next to your Capture Source's name in the Audio Mixer and choose Advanced Audio Properties.  For us, this is going to be called NZXT Signal Capture.

In the Advanced Audio Properties window, you should see all of our current audio sources listed.  Go ahead and select the Audio Monitoring dropdown for your Capture Source and choose Monitor Only (Mute Output) from the dropdown menu, then click the Close button.
From here, you should be able to hear your game's audio.  If it's a bit loud, we recommend adjusting it using the volume slider found on the Audio Mixer.  If you're streaming your gameplay, it is recommended to do a quick test recording to make sure your audio levels are good before starting your stream.  Remember, audio is generally your audience's first impression of your content, bad audio will drive away users faster than bad content.
With everything set up, you should be ready to go with playing your console from your PC with no extra monitor required.  Of course in some cases, having your gameplay docked to the OBS software may not be ideal.  Thankfully for this OBS has a handy preview feature called Fullscreen Projector (Source) or Windowed Projector (Source) that we can use to separate the source video stream from your OBS without any overlays being present while you're gaming.  To use this, simply right-click the capture source from the Sources list, then choose the appropriate Projector mode.  When going Full Screen, you'll need to select the monitor that you're going to run the preview from the provided list.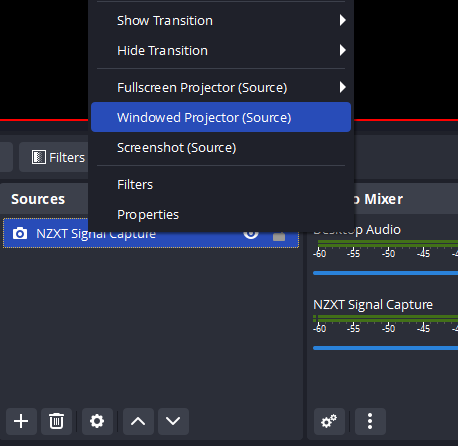 With this, you should now be all set to record or stream your amazing gameplay.  By using a capture card to stream directly to your PC, you'll never have to unplug and plug in monitor cables just to play your favorite console.
It is worth noting however that based on your console, PC, and the capture card in question there may be some input or audio latency added between the console and PC by the capture card.  If you are playing a game where input latency plays a key factor, it is recommend to instead use the zero-lag passthrough present on your capture card if it is available.  This will usually be in the form of an HDMI Out port on the capture card like those found on the NZXT Signal line.
Just remember, at the end of the day what's most important is that you're having fun and enjoying the game.
Do you have any questions not covered by this guide or need further assistance?  Please feel free to reach out to our Customer Support team and one of our friendly support agents will be there to assist you.

Are you looking to keep up on all things NZXT?  Go ahead and join the Official NZXT Community Discord to keep up to date on our latest products, upcoming sales, and join in on discussions on everything from PC hardware to gaming.
You can also follow us at the following links: