Have you purchased a barebones NZXT Function Mechanical Keyboard and are wondering which switches you can use to get your keyboard up and running?  Maybe you've got a completed keyboard, but you're looking to branch out and try a different typing experience.
Whichever the case, this guide will give you all the information you should need in order to pick out the right components for your keyboard build.
What Mechanical Switches are compatible with my NZXT Function Keyboard?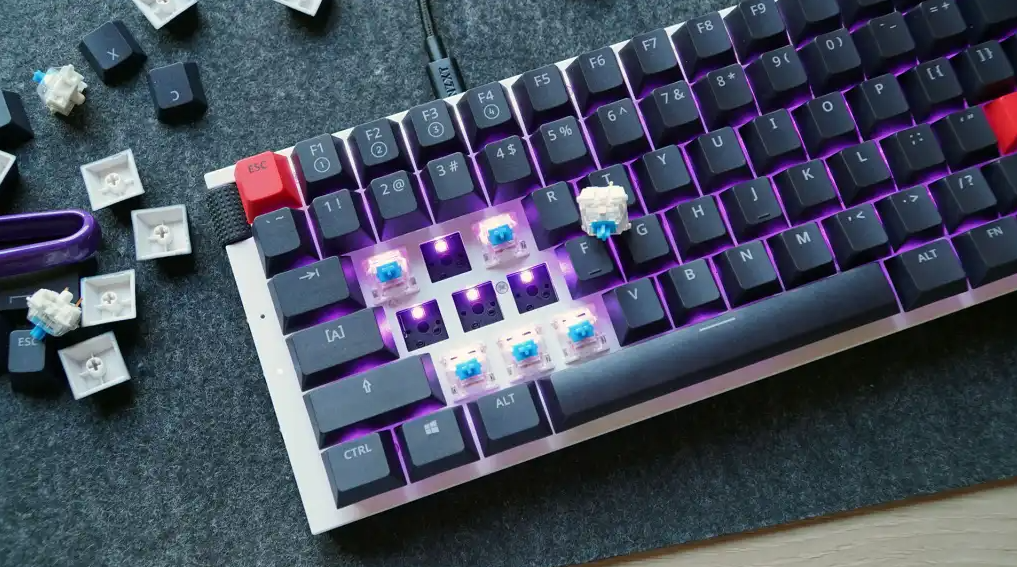 All NZXT Function Mechanical Keyboards come with hot-swappable switch sockets.  This means that whether a switch wears out and needs to be replaced, or you want to change up the switches to better match your typing preferences it's a simply 4-stype procedure to swap out the switch.
Using the included Keycap Puller, remove the Keycap for the button(s) you wish to replace on your Keyboard.
Using the included Switch Puller, grip the Key Switch and remove the switch.
Align your replacement switch with the socket, then firmly press down until you feel the switch lock into place.
Replace the removed Keycap.
However, before doing this you may find yourself asking a few questions:
What switches are compatible with my keyboard?  Do I go with MX-Style or can I use low-profile switches?
Can I use Optical Switches, or am I limited to Mechanical Switches?  What about Hybrid Membrane Switches?
What brand of Switch should I go with?
Can I use 3-pin?  5-pin?  What are "pins"?
To start, NZXT Function Mechanical Keyboards are only compatible with 3-pin or 5-pin, MX-style Mechanical Switches.
MX-Style switches are going to be the most common type of Mechanical Keyboard Switch on the market and are manufactured by a number of companies, including but not limited to:
Gateron (the primary supplier for the switches included with pre-built and custom NZXT Function keyboards)
Cherry
Kailh
Outemu
Zeal
Akko
And many, many more
The name "MX Style" refers specifically to the Cherry MX style of switch which was developed by CHERRY in the early 1980s and has become the standard in the mechanical keyboard space over the years.  These switches can be easily identified by their square form factor, sloped top, cross-shaped stem, and two metal pins located beneath the switch.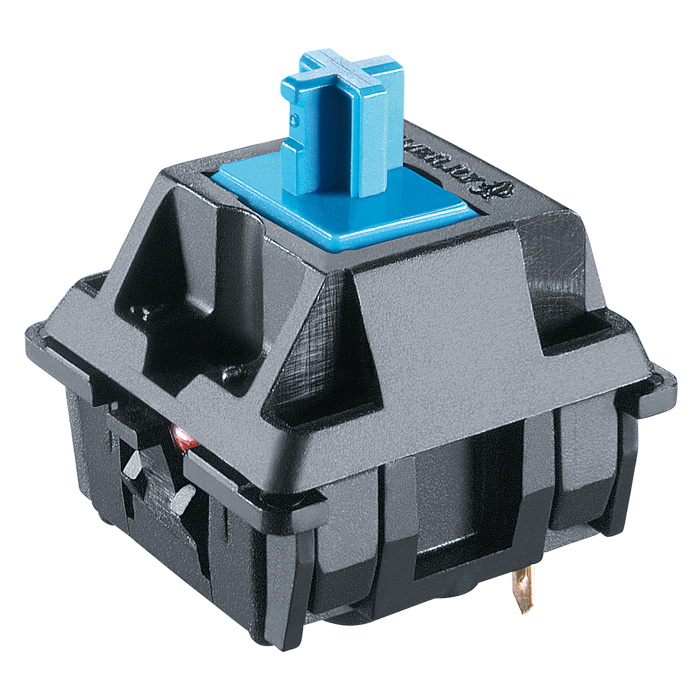 For MX-style switches, the two most common types you'll see are 3-pin and 5-pin which can be identified by checking the underside of the switch.
3-pin or Plate switches will include two metal pins, as well as a single plastic retention pin located in the center of the switch.  These are named plate switches due to being designed for use specifically with a mounting plate.
5-pin or PCB switches will include the same two metal pins and plastic retention pin as seen on the Plate variant, but will also include a pair of plastic stability pins to help align the switch with the keyboard's Printed Circuit Board (PCB).  PCB switches can be used with or without a mounting plate.
The NZXT Function Mechanical Keyboards are compatible with both 3-pin and 5-pin switches without the need for modification to the switch or keyboard.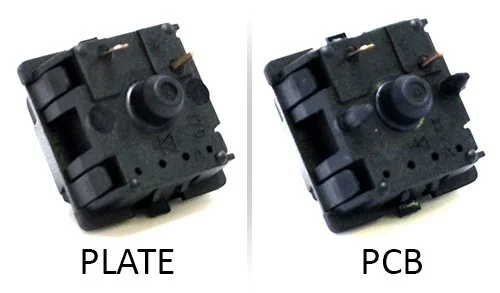 What type of switch should I get?
A common question while picking switches for your keyboard is the question of which type of switch should you choose.  This question can be quite complex for most users, however to make this simple let's start by breaking down the 3 basic switch types:  Clicky, Tactile, and Linear.
Clicky switches as their name implies covers all switches that have an audible click when the switch is pressed.  Some of the most popular switches in the Clicky category would include things like the Cherry MX Blue, Gateron Blue, or Kailh Box Navy to name a few.
Tactile switches are similar to Clicky switches in that they provide feedback when the switch is pressed, however instead of an audible "click" it's instead a tactical bump that is felt.  Some of the most popular switches in this category are the Cherry MX Brown, Gateron Brown, or the Holy Panda.
Linear switches are the last type and get their name from simply being a linear button.  Linear switches provide no audible or tactile feedback when the button is pressed, instead putting a focus on a smooth typing feel.  Some of the most popular switches in this category are the Cherry MX Red, Gateron Red, or Novelkeys Cream.
Out of the three switch types, linear switches tend to be the most popular option amongst gaming keyboards while Tactile and Clicky switches are popular amongst typists based on personal preference.
At the end of the day, the switch you go with is going to be based on your level of comfort and personal preference.  The best way to pick out the right switch is to try out a variety of switches, and many switch companies may sell sample packs or test kits that can help you pick out the best switch for you.
What Keycaps are compatible with my NZXT Function Keyboard?
Keycaps will for many people be the most important part when building or modifying your keyboard.  Keycaps come in many shapes, sizes, and materials that can make choosing the right caps a daunting task or outright overwhelming for many people.  Thankfully, we can easily break down each of these steps:
PBT or ABS Keycaps, which should I choose?  What about other materials?
The two most common materials for keycaps will be ABS (Acrylonitrile Butadiene Styrene) or PBT (Polybutylene terephthalate).  While there are other materials such as POM (Polyoxymethylene) aka Acetal or even more uncommon materials such as metal, ceramic, or wood, these are the two most common materials that you will see.  The key differences between these materials can be seen in the chart below:
| | |
| --- | --- |
| ABS | PBT |
| Usually less expensive | Usually more expensive |
| Shiny or Glossy finish | Matte finish |
| Smooth texture | Rough texture |
| Usually thinner walls | Thicker Walls |
| More muted typing sound | Deeper typing sound |
| More flexible material | Stiffer, more brittle material |
| May wear faster over time | May wear slower over time |
It is worth noting that the above is based on average keycaps for each material.  You may find some ABS keycaps that are more expensive than a similar PBT set, or even a PBT set that may wear faster than a comparable ABS set.
Retail NZXT keyboards will include double-shot ABS keycaps that allow for RGB backlighting to shine through, while Custom NZXT keyboards will include dye-sublimation PBT keycaps without shine-through.
What about "double-shot" keycaps?
Most keycaps will fall into one of two categories:  Dye Sublimation ("dye sub") and Double-Shot injection.
Dye Sublimation is a process where ink is heated to the surface of the key, directly dying the plastic of the key to print a clean, readable legend on the key.
Double-shot injection however is a process where a key is made from two or more layers of plastic being injected in stages to keycap mold.  This process results in the legend of the key being its own physical layer within the key, and tends to result in a far more durable legend when compared to other types of keycaps and even allows for effects such as easily allowing for backlighting to shine through the keycaps or even allow hybrid appearances such as pudding or holo keycaps that allow large sections of the keycap to glow.
What are keycap profiles?  Should I go with Cherry, OEM, XDA, etc.?
A keycap profile is the physical shape of the keycap itself.  The profile of your keycap will likely have the most impactful in changing your typing experience.  Depending on the profile, you'll notice a change in the height, angle, and surface of the keycap itself.  Below is a diagram of a few of the most common keycap profiles: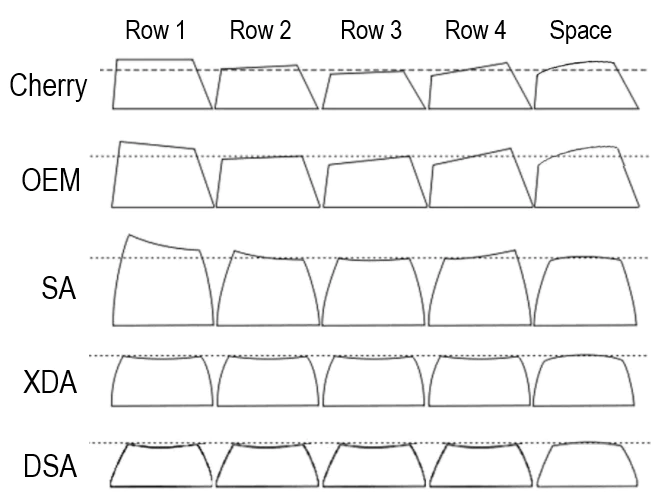 Of the profiles shown above, all retail and custom NZXT Function keyboards will include OEM profile keycaps which feature a greater slant on the top and bottom rows when compared to other popular profile such as Cherry, XDA, and DSA.  It is worth noting that there are many, many other profiles not shown above so it is recommended to try out a few different sets to find what works best for you.
It is worth noting however, that the Cherry profile of switches are designed with South Facing switches (top LED section facing the bottom of the keyboard) in mind.  All NZXT Function Keyboards include North Facing sockets for switch installation, so you may encounter situations with Cherry keycaps where the switch itself will collide with the keycap, rather than allowing for a true bottom out of the switch.
Summary:  Which is the best keyboard build for me?
Hopefully the above guide was able to help you in picking out what is best for your personal preferences, however that itself is the key.  There is no single "right answer" for what is best for you, rather picking the best keyboard will come down to your own personal preferences and tastes which can change over time as you come to experience new things.  The great thing about custom mechanical keyboards is the ability to freely experiment with new switches, keycaps, materials, etc. until you find what fits you just right.
If you are looking for instructions on how to build or customize your keyboard, go ahead and check out the guide linked below:
NZXT Support - Building your NZXT Function Keyboard
Do you have any questions not covered by this guide or need further assistance?  Please feel free to reach out to our Customer Support team and one of our friendly support agents will be there to assist you.

Are you looking to keep up on all things NZXT?  Go ahead and join the Official NZXT Community Discord to keep up to date on our latest products, upcoming sales, and join in on discussions on everything from PC hardware to gaming.
You can also follow us at the following links: