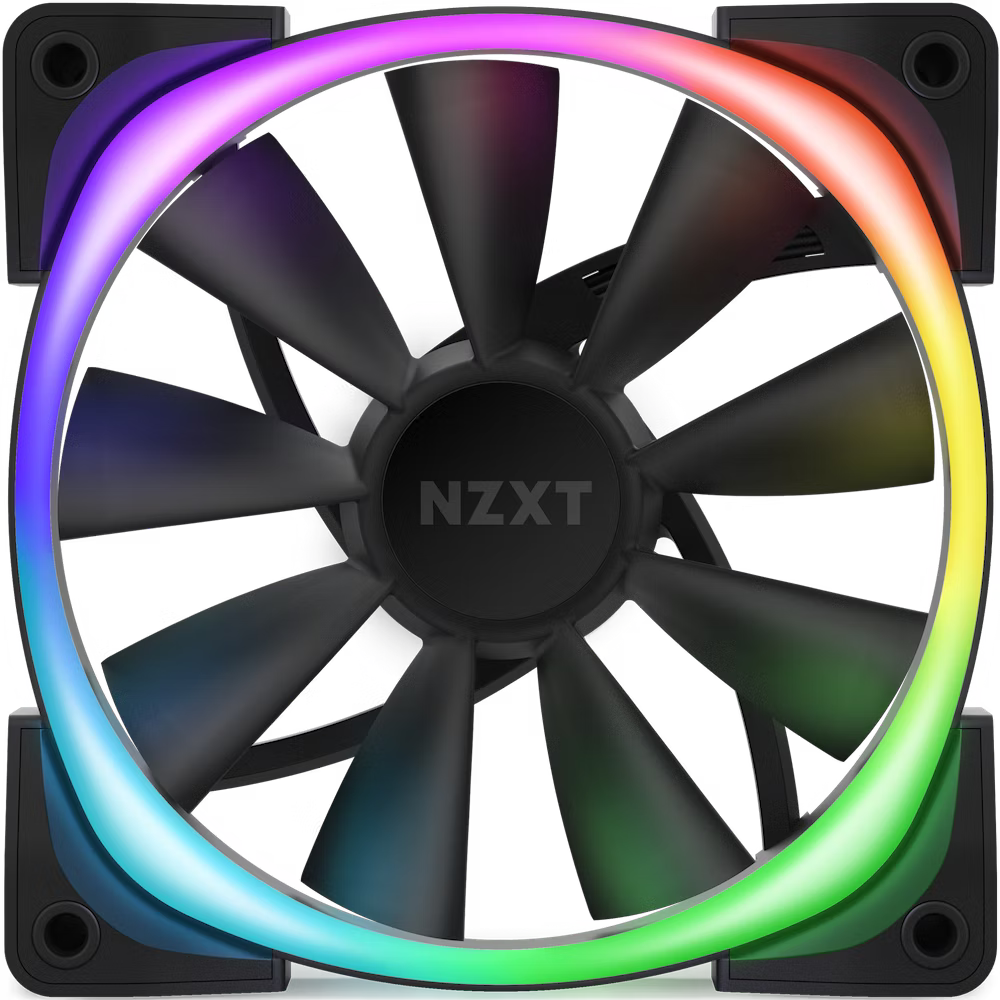 This guide will cover connecting Aer RGB 2 fans to an NZXT RGB Controller.  This guide will cover not only cover the basics of connecting to the controller, but also connecting multiple fans to a single RGB channel or daisy-chaining.
For this guide, we will be using the NZXT Aer RGB 2 fans as well as the NZXT RGB & Fan Controller (V1) included in the Aer RGB 2 multi-packs, however the same steps will apply to any NZXT Generation 2 or newer RGB controller:
NZXT RGB & Fan Controller (V2)

Also included with the H9 Elite and H7 Elite (2022)

NZXT Smart Device V2 included with select Elite and i-series cases
NZXT RGB Controller included with select NZXT products
RGB Limits (per device and per channel)
Before continuing, please keep in mind that all NZXT RGB RGB Controllers have a total limit that cannot be exceeded.
40 LEDs per channel
120 LEDs per device
For example, if you have the NZXT RGB & Fan Controller (V2) which includes 6 RGB channels then you will only be able to use a maximum of 120 LEDs for the full device.  This means if you use the maximum number of LEDs per channel (40), only 3 channels will be usable.
Can I use multiple NZXT RGB Controllers in my PC?
To get around these limits, you can add additional NZXT RGB Controllers to your system as long as you have available USB 2.0 headers.  If you need additional USB 2.0 headers, you can use a powered USB Internal hub like our NZXT Internal USB Hub.
Keep in mind the following:
Connecting the Fan to the RGB Controller
All Aer RGB 2 fans will include a pair of cables that will need to be connected in order for the fan to work:
An integrated 12V Fan cable
A detachable NZXT RGB cable
Both of these cables will need to be connected for the fan to work, however for this guide we will be focusing on the RGB side.  Whether you purchased a single NZXT Aer RGB 2 fan or a multi-pack like the one for this example, you'll find four types of NZXT RGB cables, all marked with an In and Out flag at their ends.
NZXT RGB Fan Connection Cable
NZXT Fan-to-Fan Cable
NZXT Fan-to-Accessory Cable
NZXT Accessory-to-Fan Cable
To start, we will connect the Fan Connection Cable to our Aer RGB 2 Fan.  When compared to other cables included with the kit, you'll find that the Out end will be larger for the Fan Connection Cable as shown below.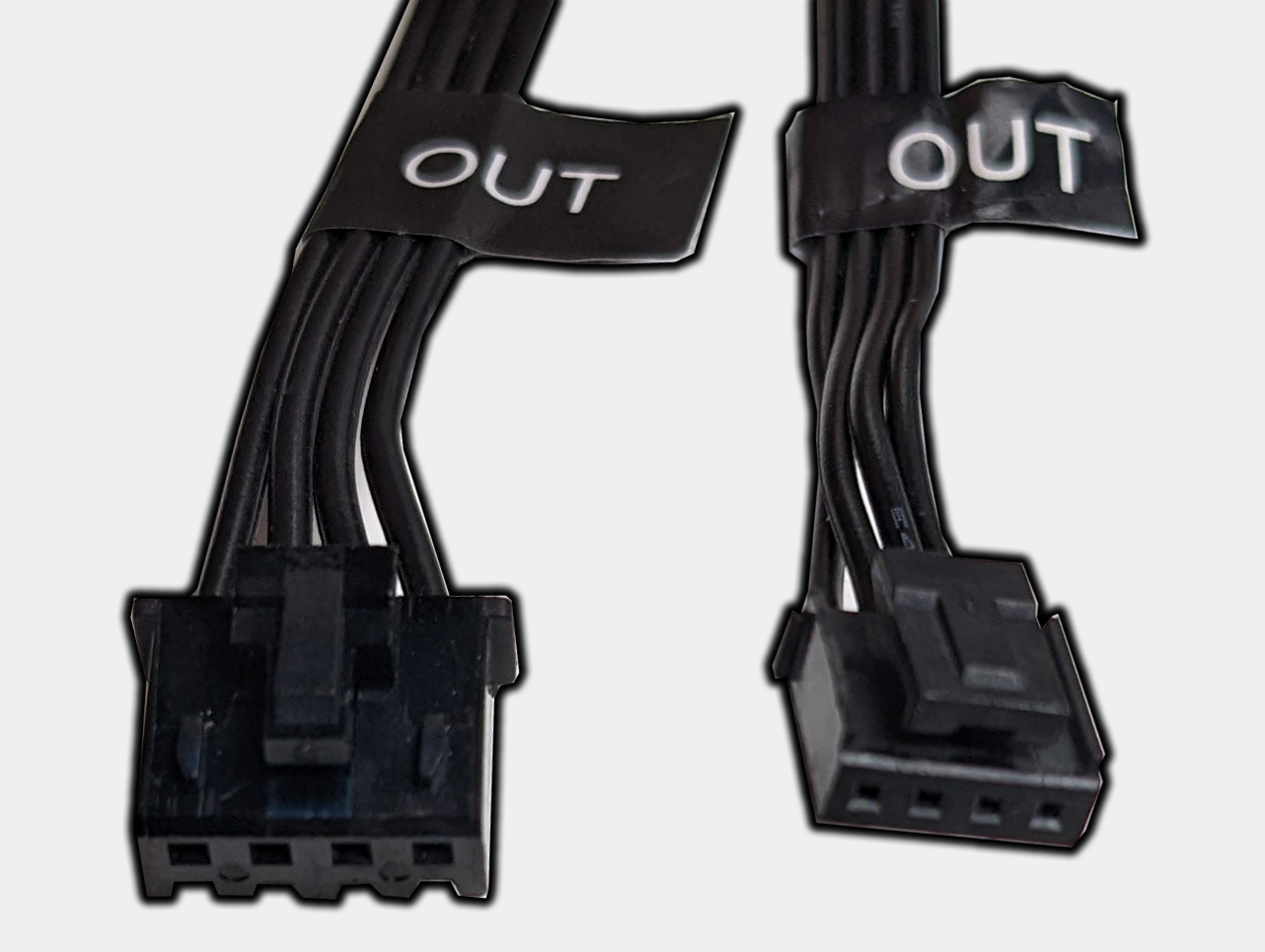 The larger cable Out end will connect from the Controller to the Fan, while the smaller Out end will connect one fan to another NZXT RGB device.
Take the Out end of the Fan Connection Cable and connect it to an open RGB or LED port on your controller.  For our example, we will be connecting to LED 1 as shown below.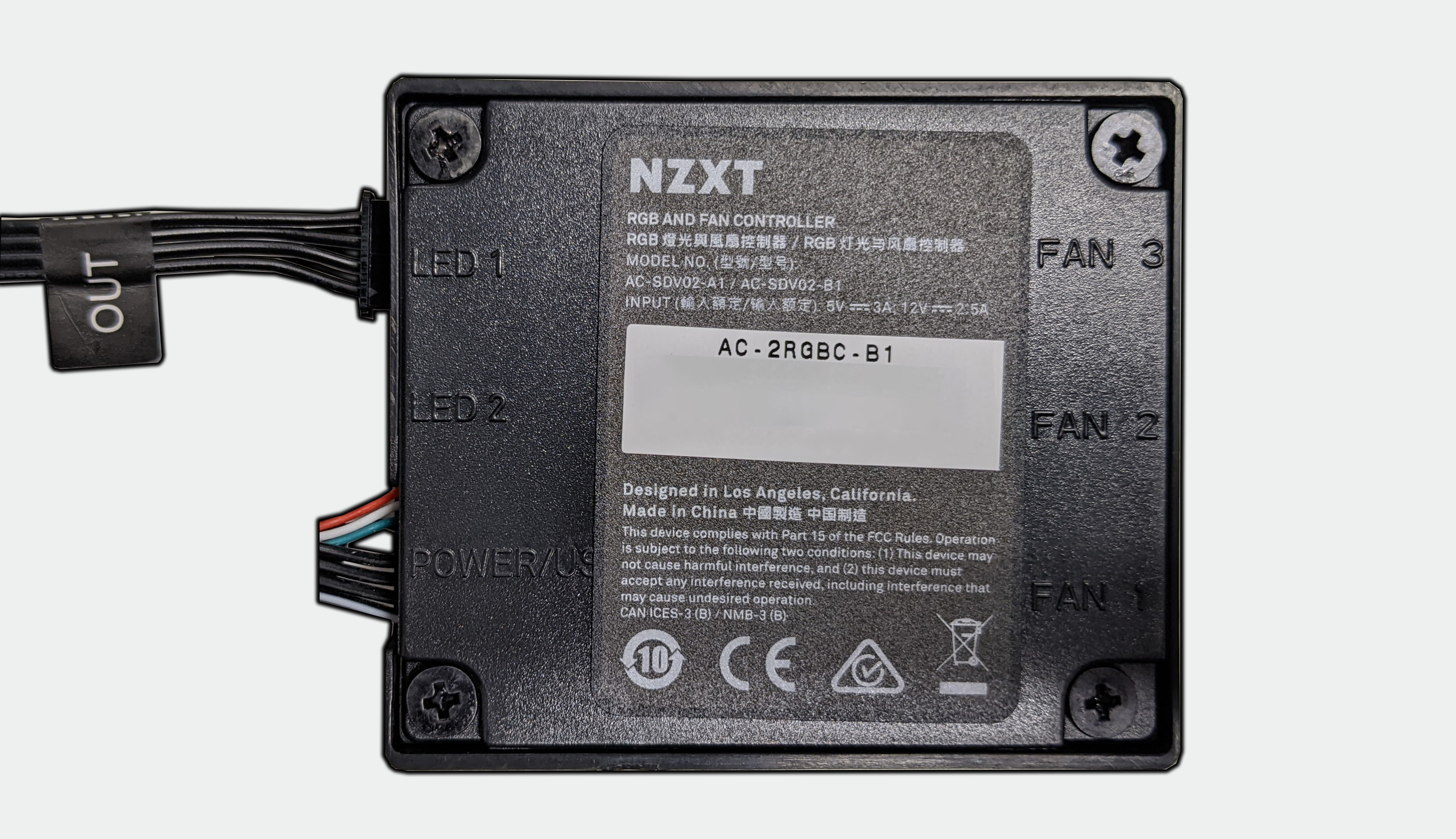 From here, we will connect the In end to the port labeled In on the Aer RGB 2 fan.  From here, start the PC and if connected properly the Aer RGB 2 fan should light up in its default White color or in Rainbow Spectrum for certain controllers.
How do I connect additional Aer RGB 2 fans (daisy-chaining)?
Connecting additional Aer RGB 2 fans is fairly easy, only requiring an additional fan as well as the NZXT Fan-to-Fan Cable included with your fan kit.  These cables come in two different sizes:
A long, 500mm version
A short, 200mm version
The versions you will have will vary based on the product purchased, so please check your manual to confirm the type included.  For our example, we'll be using the short 200mm variety as shown below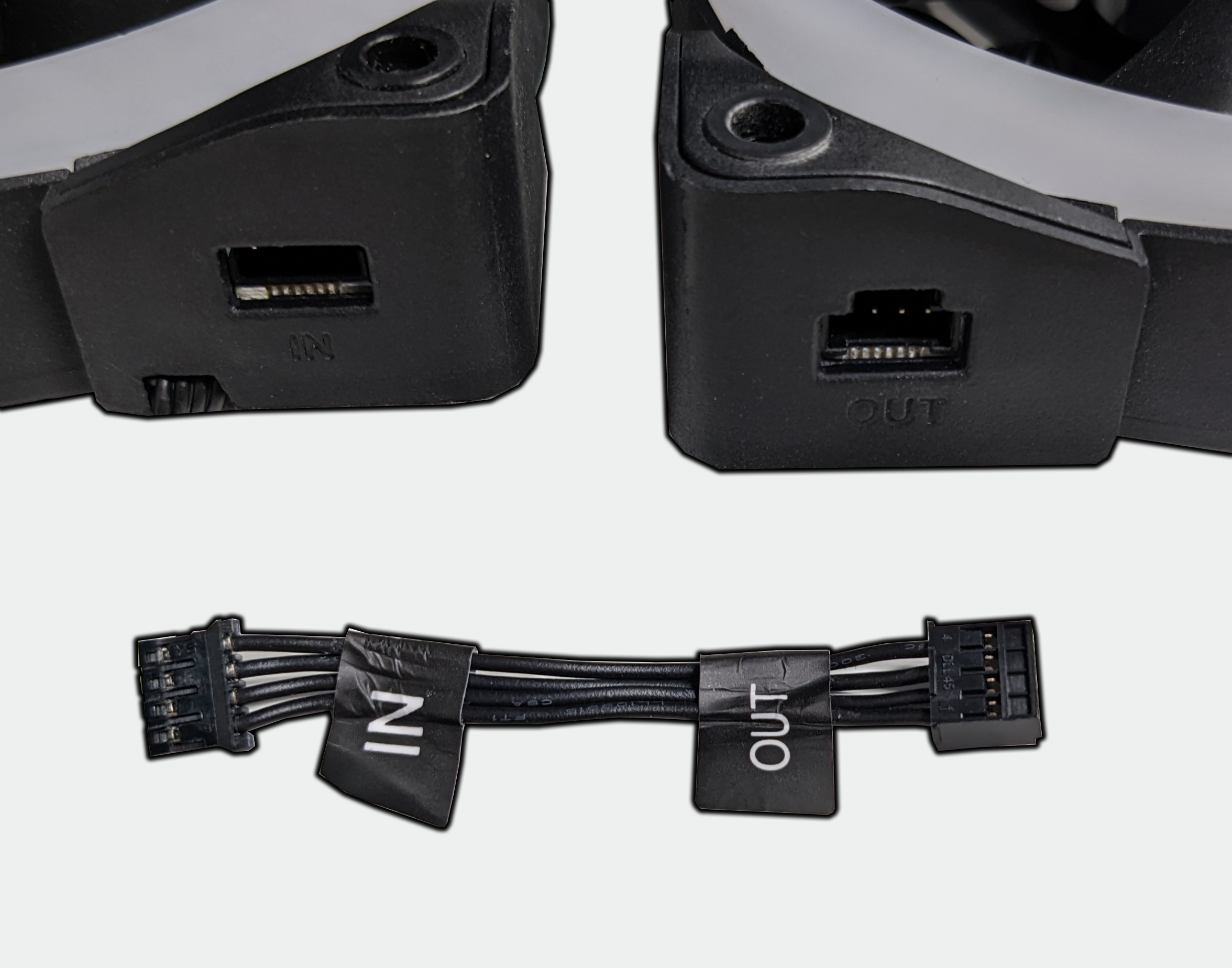 On all Aer RGB 2 Fans you will find two ports labeled as In and Out, just like the flags on the cables.  When connecting two fans together, match the cables to the appropriate end on each cable, then press them into place.  These connectors are keyed so that they can only connect in one way so there should be no worry about damaging the pins or plugging the wrong end into the port.  For the Out port, you'll also find that there is an additional locking clip to secure the fan.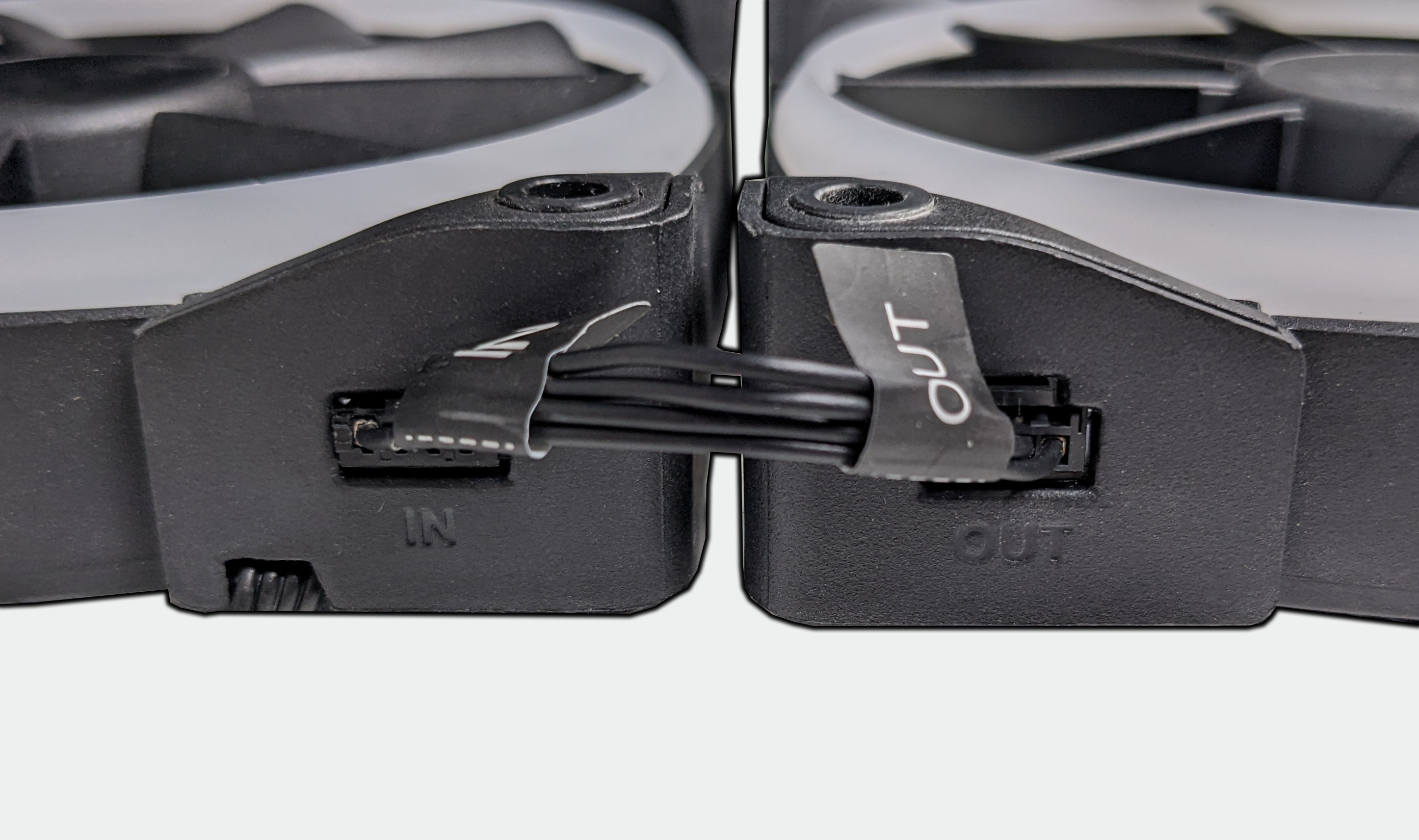 From here, repeat the process for any additional fans you have, up until you hit the RGB limit.  For Aer RGB 2 fans, this will be a total of 5 fans without any other RGB devices attached per channel.
Can I connect other NZXT RGB Devices to my Aer RGB 2 Fans?
If you would like to connect an additional NZXT RGB device such as an NZXT RGB Strip, Underglow, or Cable Comb set you can do so using the included NZXT Fan-to-Accessory or NZXT Accessory-to-Fan cables.  However do keep in mind the overall LED-per-channel limit when connecting additional RGB devices.
Do you have any questions not covered by this guide or need further assistance?  Please feel free to reach out to our Customer Support team and one of our friendly support agents will be there to assist you.

Are you looking to keep up on all things NZXT?  Go ahead and join the Official NZXT Community Discord to keep up to date on our latest products, upcoming sales, and join in on discussions on everything from PC hardware to gaming.