Whether it be that sweet new RGB waterblock for your custom loop system or an accent strip to make your system's lighting pop you may have a need to use either a 5V Addressable RGB (ARGB) device or 12V RGB device with your system. However unlike the F-series RGB fans or NZXT Underglow kit these devices need a helping hand to be seen by the NZXT CAM software. In this guide we'll cover setting up your latest RGB component for your CAM software to be ready for your latest flex post.
12V RGB vs. 5V A-RGB vs. NZXT RGB
Before jumping into the CAM software, it is best to look at the differences between the three types of RGB that your NZXT motherboard supports.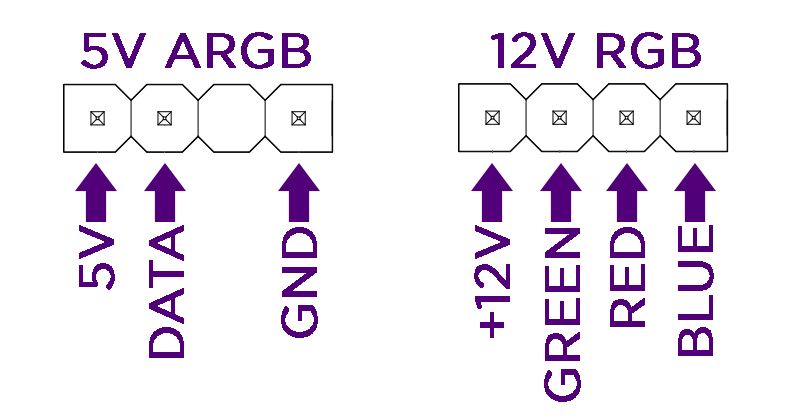 The two most common types of RGB products that you will find are 5V ARGB and 12V RGB, with the main difference between the two aside from their input voltage being that 5V ARGB is a Digital standard while 12V is an Analog standard. But, what do these mean?
Put simply, with a Digital LED device such as an ARGB strip you can control each individual LED's color and brightness to create animations and gradients within the strip itself. For Analog RGB devices however, you are limited to a single color for the entire RGB strip. 12V is an older standard for RGB and may be found with older cases while 5V ARGB is a newer standard that is seeing wider spread adoption.
Be careful when connecting these devices however, as it is easy to accidentally plug a 5V RGB device into 12V and vice-versa. Mixing these connections can result in damage to the RGB device or your motherboard. For more information as to which connector to use, refer to your device's manual.
Finally the third type supported by NZXT motherboards is NZXT RGB, which takes the groundwork of 5V ARGB and expands upon it for cleaner, more responsive effects across fans, LED strips, and other RGB products. In addition to this, NZXT RGB devices will detect natively when connected to a CAM powered controller like that found on the N series motherboards.
Setting up 3rd Party Devices in the NZXT CAM software
With your 3rd party RGB device connected to the motherboard, you may notice the device will light up bright white on startup but then immediately turn off when the CAM software starts. Do not panic though, as this is normal behavior since we have not yet set the device up in the CAM software.
To start adding your RGB device, open the "Lighting" tab on the CAM software and select "About the … Motherboard" option.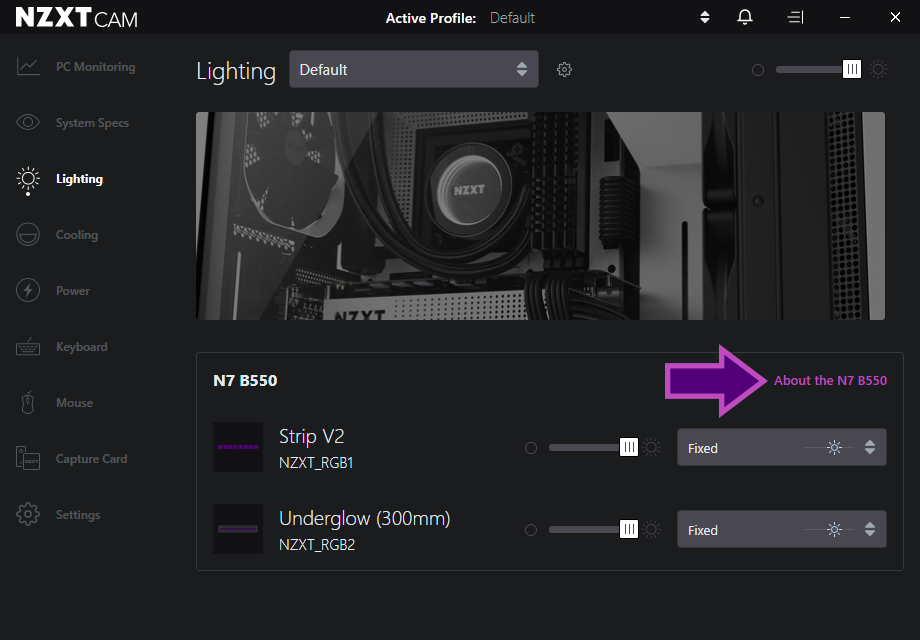 Clicking this will bring you to the device's status menu which will show you the status of all RGB headers on the motherboard as well as their available LEDs. Select the type of 3rd Party Devices you'd like to configure based on the port(s) you used by clicking the gear next to the port. In this case we'll go with the 5V_ARGB1 header.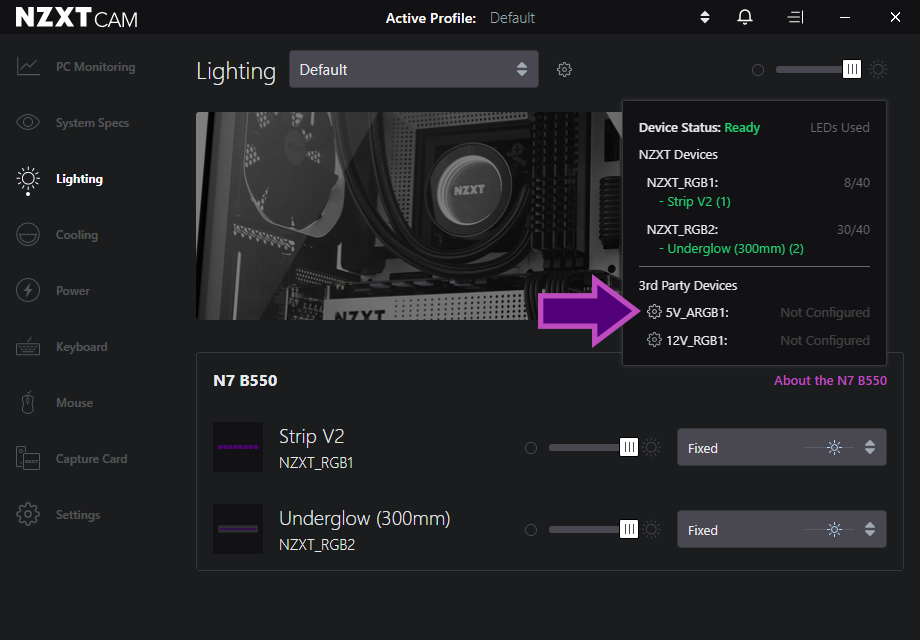 With the "Configure RGB Product" window open, select how you would like your RGB device to be seen. For this example, we've selected the "Other" option for a GPU backplate. For 12V RGB devices, you can go ahead and select "Save' from here and the device should be ready to go. For 5V RGB devices however, we'll need to tell the CAM software how many LEDs are in the device. To do this, click the "Advanced Setup" button to continue.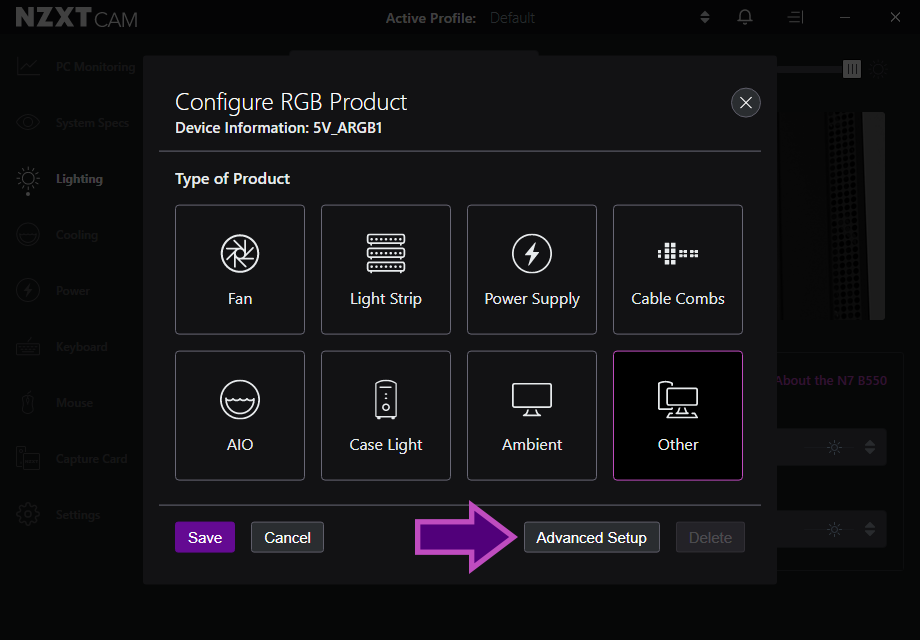 In the Advanced Setup window you will find a slider labeled "LED Count". Move the Slider from left to right until you see all of the LEDs on the device illuminated, or until the number above the slider shows the number of LEDs in the device. Please note, the maximum number of LEDs that can be controlled by the N Series motherboards is 40 per channel. For our example, we will set this to 21 LEDs and click "Save" to complete the setup.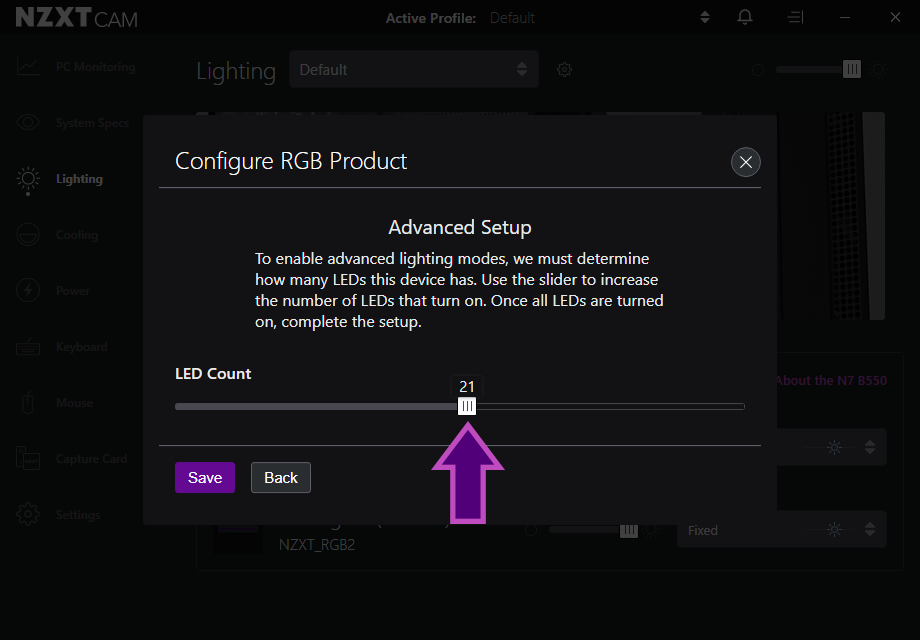 With those steps completed, your device should now be illuminated and controllable in the CAM software. By clicking the device panel in the CAM software we can further adjust our lighting effects or rename the device by clicking its name.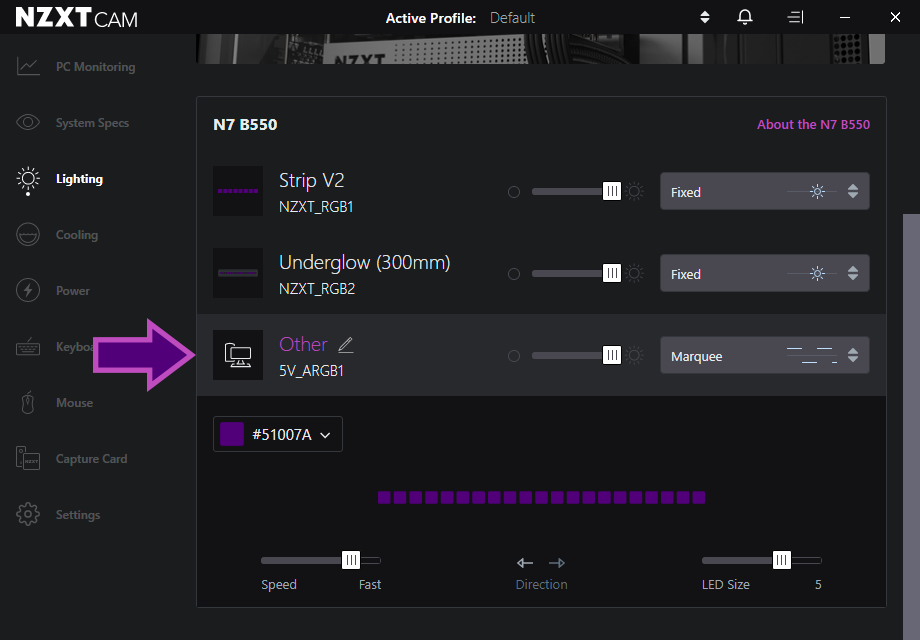 If you have any additional questions regarding your NZXT motherboard, or configuring RGB devices then feel free to reach out to our Customer Support team.