A common issue that can happen while assembling your keyboard, whether it's your first time or you're a veteran keyboard builder is that you might run into a bent pin on a switch.   Whether this be out of the box with a new pack of switches, or caused by a switch not going in quite as straight as it should, this is an issue that is fairly easy to fix without the need to replace the switch outright.
This guide will cover identifying, as well as fixing bent key switches for mechanical keyboards such as the NZXT Function Mechanical Keyboard.
Note:  This guide is intended for use with Mechanical Keyboards with hot-swap sockets.  Please refer to your keyboard user's manual to confirm if your keyboard supports hot-swap switches.
How do I know if a key switch pin is bent?
The most common way to check if a key switch is bent is to run a keyboard test on your PC.  There are a number of different tests you can run, however a few popular options are linked below:
Additionally, you can do a typing test using either a word processor installed on your PC or an online test such as Monkeytype. 
A sign of a bent pin or worn switch is if a particular key does not fire consistently when pressed.  Once you have confirmed that a key is not working as intended, the next step is to remove the switch from the keyboard.
Start by removing the Keycap using a proper tool, such as a keycap puller which may have been included with your keyboard.  With the keycap removed and the switch exposed, use a switch puller to remove the switch from the keyboard.
If used properly, the switch should easily release from the keyboard with little to no force.  With the switch removed, go ahead and inspect the bottom of the switch to confirm if the pins are bent.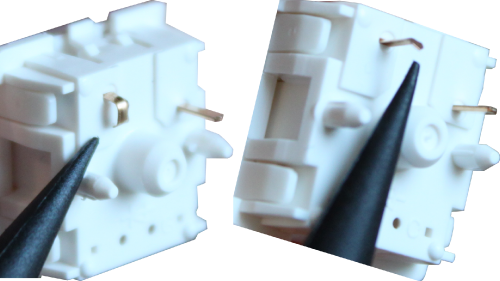 Above we have two common ways that a switch can be bent.  For a keyboard to work properly, these pins must be completely straight with no bending or curling.  If you notice that the switch is bent, you'll need to straighten it out before installing it into the keyboard.
How do I un-bend the pins on a key switch?
Fixing a bent pin is easy, however it does require a bit of patience and a couple tools.  In particular, what we would recommend would be:
A needle or pin (only necessary for severely bent pins)
A pair of tweezers with a flat edge (as shown below)

In some extreme situations, the pin may be tightly bent or curled onto itself.  For situations like this, use a needle or pin to pry the pin away from itself before continuing.
From here grab the pin at the point where it's bent and bend the pin back into place until it is as straight as possible.  Once it is fairly straight, very lightly grab the pin from the base and pull the tweezers across the pin to ensure that the pin is as straight an upright as possible.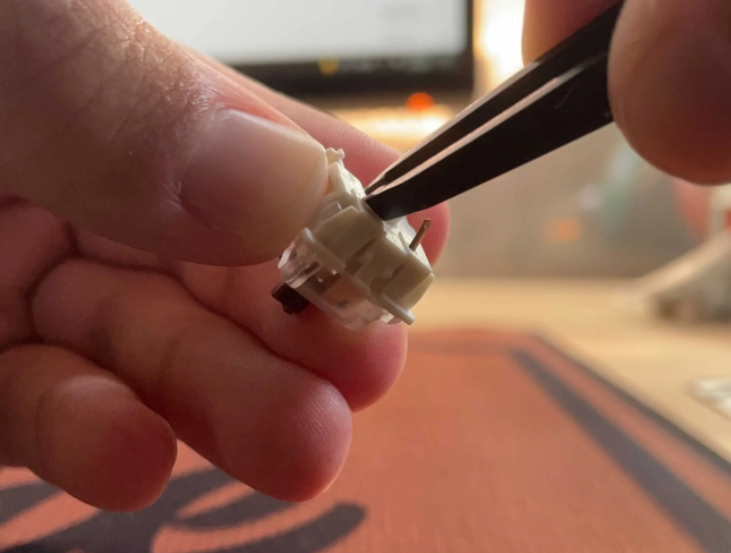 If done properly, the pin should stick out straight from the switch itself.  It doesn't need to be perfect, however the straighter it is the higher the chance that the pin will not bend again and it will make a solid connection with the keyboard.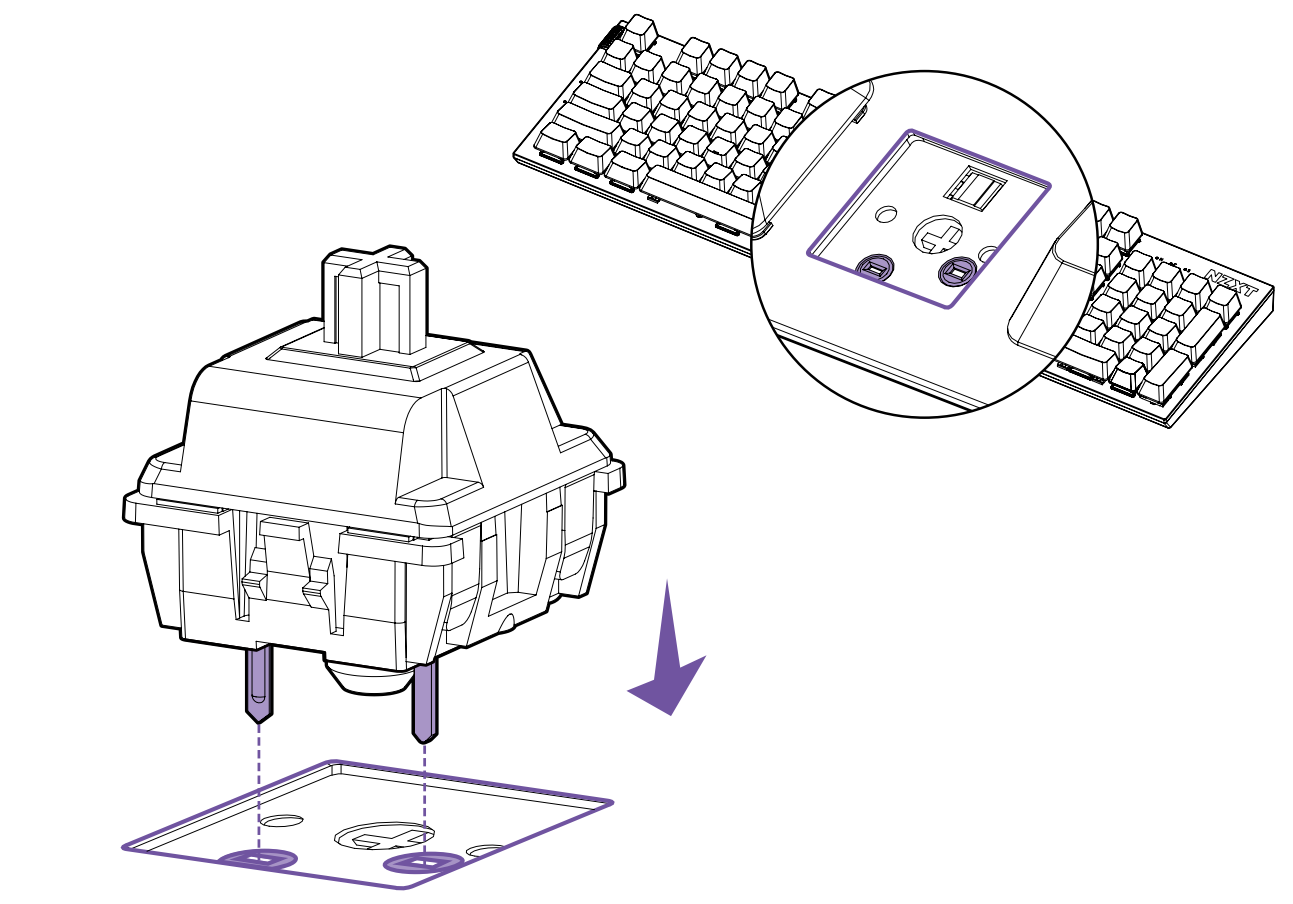 To re-install the switch, check the socket you are looking to use and make sure that you can see that the hot-swap sockets are clear of any debris.  Line the switch with the socket and firmly press it down into the keyboard.  If done properly, the switch housing should click into the socket and will not freely come out.
From here, test the keyboard again to confirm the key is properly working and you're good to go.  If the switch does not detect or is still having issues, then you may need to replace the switch with a fresh ones.
Do you have any questions not covered by this guide or need further assistance?  Please feel free to reach out to our Customer Support team and one of our friendly support agents will be there to assist you.

Are you looking to keep up on all things NZXT?  Go ahead and join the Official NZXT Community Discord to keep up to date on our latest products, upcoming sales, and join in on discussions on everything from PC hardware to gaming.
You can also follow us at the following links: