If your Kraken is not detecting in CAM it can be for a number of reasons. This step by step guide will help us determine the root cause of the issue and help us resolve it.
First, let's check and see if the Kraken is detected in Windows. To achieve this you will launch your Windows Device Manager.
Once launched you will be looking under the "Universal Serial Bus Controllers" section for and device with a yellow triangle with an exclamation point in it. If not detected at all you can skip the next steps.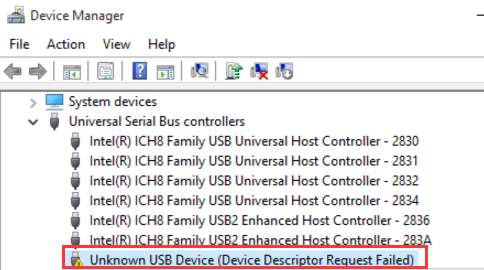 Now right-click the unknown device and select Properties and navigate to the Driver tab and attempt to uninstall the driver.
Now you will restart your PC and then recheck the device manager to see if it still has that yellow triangle. If it does not then launch CAM and see if the Kraken is detected. If not then please manually install the chipset driver from here: https://www.dropbox.com/s/ktdih3rifenohk4/Kraken%20chip%20Driver.zip?dl=0 and then restart your PC.
If the yellow triangle still appears, please disable all other RGB software and then restart the PC. If this solves the issue please reenable the software(s) one at a time to determine the conflicting software. Once determined please let our customer service team know so we can prevent future conflicts.
If the Kraken was not detected in the device manager, then we now need to make sure that the hardware is properly installed. Before working on any internal PC components please power down the system and remove the plug from the power source.
The first thing you will need to do is locate the Kraken USB cable. Make sure the USB cable is firmly seated into both the pump head and your motherboard's internal USB 2.0 header. Now reboot the system and check for detection in Windows.
If you are still not getting detection, try seating the cable on a different USB 2.0 header on your motherboard and reboot. If your motherboard only has 1 internal header or if moving to another header does not work then try connecting a mini USB to USB-A cable from the Kraken to the back of your PC via the motherboard I/O.
If connecting to the rear I/O resolves your detection issue, reach out to the support team for replacement cables for the Kraken. If you are still unable to resolve the detection issue, please reach out to the support team with your full name, shipping address, phone number, and a copy of your invoice as an RMA may be required. https://www.nzxt.com/customer-support